Salem Straub Gyuto Chef's Knife, Stabilized Burl, Aldo's W2 Hamon (SOLD)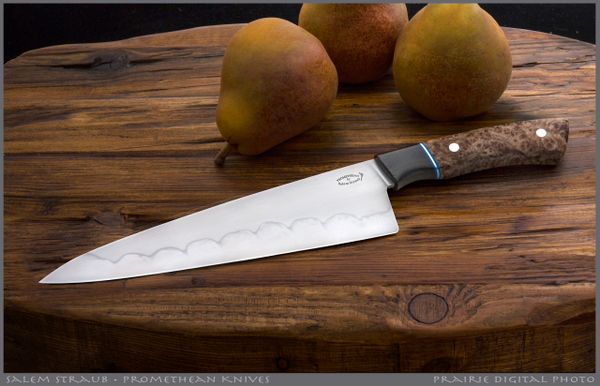 Salem Straub Gyuto Chef's Knife, Stabilized Burl, Aldo's W2 Hamon (SOLD)
Salem Straub is a self-taught blacksmith, and the creative artist behind Prometheus Knives.  He began forging knives at the ripe old age of 20, using a charcoal forge and hand tools.  Today, Salem has become a truly talented and creative artist focusing his attention on creating custom chef knives.  His work is "sole authorship".  He builds each piece one at a time.  Each knife melds art and functionality into high-performance kitchen cutlery.  He forges his own steel, and his handles should not be ignored.  The materials and shapes are both unique and ergonomic.  He is known for his attention to detail, and his fit and finish.
The knife / blade style is Gyuto - The Japanese Chef's Knife.  The Gyuto is the Japanese version of the classic Western Chef's knife.  It is a true multi-purpose knife that can perform wide range of tasks, can be used with a variety of different cutting techniques and is suitable for cutting the vast majority of meats, fishes, vegetables and fruits.  This Chef's Knife was forged from Aldo's W2 steel.  Salem has done an outstanding job of creating a spectacular hamon that is clearly visible on both sides of the blade.  The handle is Stabilized Burl.  There is a black Micarta bolster, with blue and stainless spacers separating it, from the rest of the handle.  It has great ergonomics, light in-hand, and just melts in your palm.  I consider the knife to be in near mint condition.  Nothing of note, other than the fact that is was previously owned.  It has never been used or sharpened.  Comes in a padded zippered case.  Lead photo courtesy of Mitchell Cohen at Prairie Digital Photography, Northbrook, Illinois.
Condition: Previously owned. Near Mint.
                   Never used or sharpened
Overall Length:      13 1/2"

Blade Length:         8 1/2"

Handle Length:       5"
Weight:                   6.2 ounces