Schuyler Lovestrand Stag Fighter, Model F-11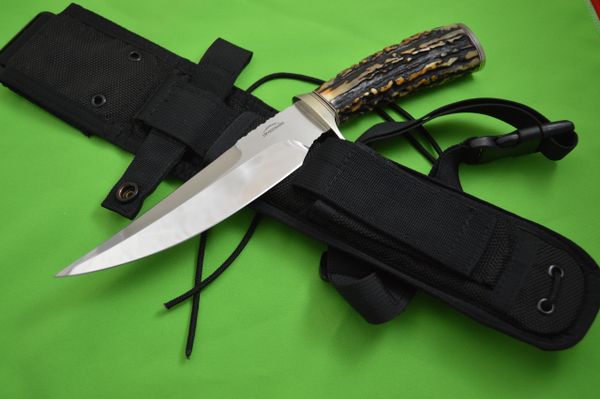 Schuyler Lovestrand Stag Fighter, Model F-11
Schuyler Lovestrand is from Apopka, FL.  He is a part time maker.  He does not make many knives each year, but those that he does make are each works of art and highly coveted among collectors.  He started making knives in the early 1980's.  His output may be small, but his focus on quality is evident in his work.
This fighting knife was delivered to the original owner in 1991.  It has been with that owner, stored in a temperature controlled environment since then, and recently acquired by Windy City Knives.  It is in virtually the exact same condition as when it was first acquired.  The only thing we could find was a few tiny freckles on the butt cap, with but 2 only really visible to the naked eye.  Schuyler calls this model the F-11.  It features an amazing stag handle that is deeply textured with great grip, a mirror polished ATS-34 stainless steel blade, nickel silver fittings (guard and butt cap), and 2" of file-work along the spine of the blade as well as 3/4" of file-work along the choil.  The top edge of the blade is sharpened for about 5" back from the tip of the blade, and it is as sharp as the blade's edge.  And there are 5 spacers separating the guard from the stag.  This is an outstanding example of Schuyler's work, and would be an amazing addition to any collection.  Included with the knife is the pictured heavy duty tactical ballistic nylon sheath in new condition.  It is not original to the knife, but fits it well.

Condition:  Previously owned. Near mint.
                   Never used, carried, or sharpened.
Overall length: 10 3/4"
Blade length:     6 3/4"
Cutting edge:     6"
Weight:            12.3 ounces