Scott Roush Damascus Viking Sword, Cherry / Gaboon Ebony Wood Scabbard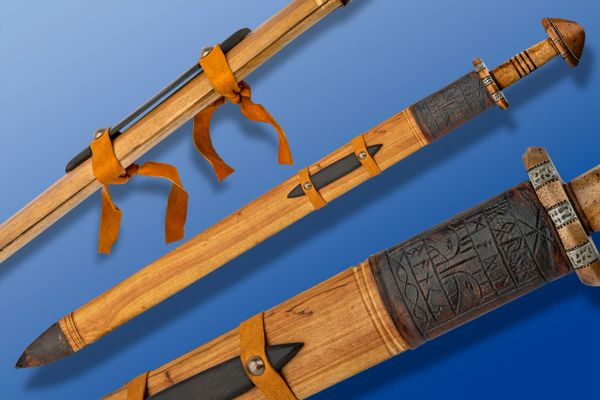 Scott Roush Damascus Viking Sword, Cherry / Gaboon Ebony Wood Scabbard
Scott Roush specializes in unique hand-forged blades and tools utilizing unique, antique and sometimes ancient materials.  Scott's goal is to create a "personal mythology" for each piece that invokes a sense of how it may have been used in it's lifetime, and then weld that idea to the psyche of the person who will own it.  I want the blade to have a story of it's own, written in it's form, function and materials, and then have that story live on with it's owner
This Damascus Sword is Scott's rendition of a Viking Sword.  The blade is a 5 bar composite, the edge bar shear steel was forged from 19th century wrought iron, and the blade core was forged from 15n20 and 1075 steels.  The hilt was made from cast bronze and pewter, ancient fossil walrus bone grip and silver wire inlay.  The pommel is also cast bronze.  Check out the beautiful patina that has developed on the bronze components.  The scabbard is made from Lake Superior Cherry wood and Gaboon Ebony wood, with deer rawhide straps.  The sword was previously owned, and in excellent condition.  It has never been used, carried or sharpened.
The sword and scabbard will ship in a hard, clamshell rifle case.  The case will be boxed for shipping.  Based on the oversized dimensions and weight, shipping will be $100.  This will be added at checkout.  The rifle case alone is worth more than $100.  Shipping will be by UPS Ground, fully insured with signature confirmation required.  No P.O. Boxes.
All photography done by Mitchell Cohen at Prairie Digital Photography in Northbrook, Illinois.
Condition: Previously owned. Excellent.

                   Never used, carried or sharpened
Overall Length:       35"

Blade Length:         29"

Handle Length:       6"
Weight:                   3 pounds 6.6 ounces