Shawn McIntyre, M.S. Amboyna Burl Hunting Knife and Leather Sheath (SOLD)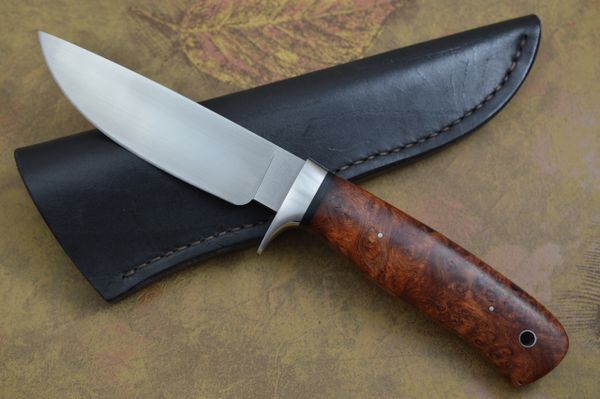 Shawn McIntyre, M.S. Amboyna Burl Hunting Knife and Leather Sheath (SOLD)
Shawn McIntyre has been living and working in Melbourne, Australia with is wife, Amanda, since 1999.  Shawn earned his ABS Mastersmith in 2008, and won the B.R. Hughes award for his Quillon Dagger.  He has won multiple awards for his work in both the United States and Australia.  His knives have been featured in Blade Magazine, Knives Illustrated and Knife World, just to name a select few.  After a brief one year hiatus from knifemaking due to a spinal injury, Shawn came back with a vengeance in 2014, and has been doing some of the best work he has ever done.
This hunting knife is indicative of Shawn's outstanding work, and his attention to design, detail, and fit and finish.  Great ergonomics and balance - the perfect combination.  Shawn forged the blade most likely from 52100 steel, and built the knife of hidden tang construction.  The single finger guard, pins, and lining of the thong hole are made from 416 stainless steel.  The handle is a beautiful chunk of Amboyna Burl wood, with outstanding color and figure.  And there's a black spacer between the guard and burl.  This one makes you want to put it on your belt and go out into the field.  The knife is in previously owned, near mint condition - only the slightest evidence of sheath marks on the guard from insertion and removal.  It has never been used, carried or sharpened.  Comes with a black leather pouch-type belt sheath, also made by Shawn.

Condition:  Previously owned. Near Mint condition
                    Never used, carried or sharpened
Overall length:      9 1/4"

Blade length:        4 5/8"
Handle length:      4 5/8"