Shirogorov Custom Division Model 95T, Titanium Frame-Lock SRRBS Flipper, 2015 Blade Show Lottery - No. 190 (TRADED)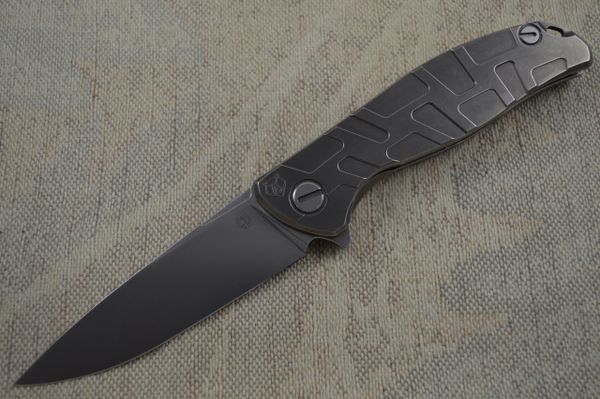 Shirogorov Custom Division Model 95T, Titanium Frame-Lock SRRBS Flipper, 2015 Blade Show Lottery - No. 190 (TRADED)
Brand New and direct from the Shirogorov Brothers' 2015 Blade Show Lottery. This is their Custom Model 95T (Turtle Pattern) Frame-Lock Flipper, with a Titanium handle and hand-rubbed S90V steel blade. It features Sergey's own SRRBS Roller Bearings, marked with his SRRBS logo. Also features Pacman pivot and hardware, a hardened steel frame-lockbar cap, deeply hollowed out handle to reduce weight, and polished titanium stand-off. Absolutely amazing attention to detail, top-shelf action (fires like a rocket), perfect lock-up, easy lock release, and dead center blade seating. Comes exactly as it was sold at the Blade Show - with the Shirogorov ballistic Velcro pouch.
Condition:
New From Maker. MINT!
Overall length: 8 3/4"

Blade length: 3 3/4"

Closed length: 5"