Sniper Bladeworks LPC Framelock Folder (SOLD)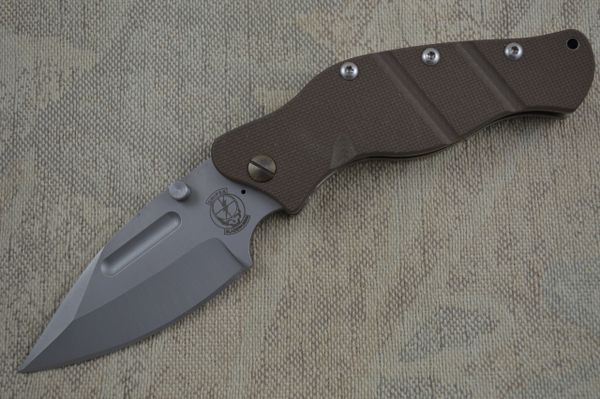 Sniper Bladeworks LPC Framelock Folder (SOLD)
Sniper Bladeworks is a collaboration between Lance Abernathy and Jody Muller.  The LPC (aka Lance Personal Carry) was designed to incorporate more combat oriented features into a knife of slightly larger physical dimensions.  The LPC features a modified drop point blade, an incredibly ergonomic handle including a canted handle to blade geometry that makes the LPC ideal for thrust and snap cut style defense actions.
The LPC was winner of the Innovative Blade of the year in 2013.  This knife is one of the sturdiest and sharpest blades we've handled.  It is extremely smooth and comfortable in-hand, despite it's large dimensions.  To call this one "overbuilt" is an understatement.  The handle is coyote brown G10 and titanium.  The titanium side of the handle has a "gold anodized" appearance, as does the matching clip.  The blade steel is CPM S30V, there are 3 large gold anodized titanium standoffs, and a lanyard hole.  The blade locks up tight with absolutely no play, and the blade falls centered when closed.  There is a small rub on the arch of the clip that is barely visible, and a pinpoint size black mark just above the fuller forward of the thumbstud on the presentation side.  The curved line you see on the ricasso of the blade on the clip side is typical, and the result of the detent ball moving over the blade during opening and closing.
Condition:
  Previously owned. Excellent.
                      Never used, carried or sharpened.
Overall length:  8 3/4""
Blade length:    4 1/8" (cutting edge 3 1/4")
Closed length:  5 1/4"