Stan Fujisaka Abalone Liner-Lock Folding Knife (SOLD)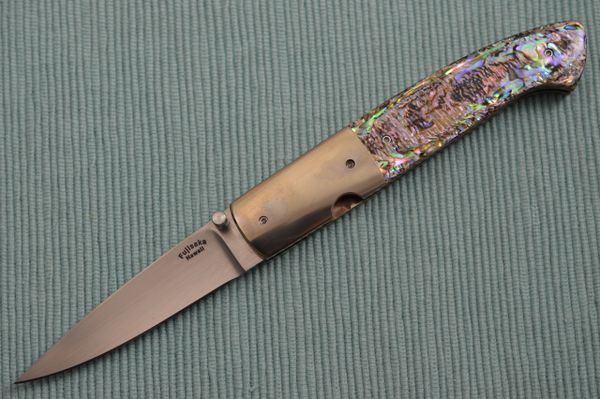 Stan Fujisaka Abalone Liner-Lock Folding Knife (SOLD)
Stan Fujisaka is a legend in the knife making community.  Sadly, he passed away on New Year's Eve 2014.  Stan was, and still is known for his attention to detail, flawless operation, classy and classic styling, and high quality materials.  He learned how to make knives from Bob Loveless "How-To" books.  Stan was always generous with his knife making knowledge, sharing it with other knife makers such as Ken Onion and Keith Ouye.  Stan's knives are works of art, with many being embellished by scrimshaw artists and well-known engravers.  Hold one of his knives in your hand and you can feel the quality, and readily see the fit and finish he was known for.

This knife is one of Stan Fujisaka's liner-lock folders, featuring two beautifully matched scales of vibrant and colorful Abalone, gold anodized titanium liners, titanium backspacer, ATS-34 stainless steel blade and oversized titanium bolster.  The blade opens with a thumbstud, smooth as butter, and locks up tight without any blade play or wobble.  The blade sits centered between the liners when closed.  This knife is the epitome of Stan's talent.  It is tastefully done, and beautifully executed.  A classy gent's folder that will get a lot of attention.  Comes in a felt pouch.

Condition:  Previously owned. Mint.
                    Never carried, used, or sharpened.
Overall length:  7"

Blade length:    2 3/4"

Closed length:  4 1/4"