Steve Culver, M.S. Dog Bone Bowie, West Texas Wind Pattern Damascus, Fossilized Handle (SOLD)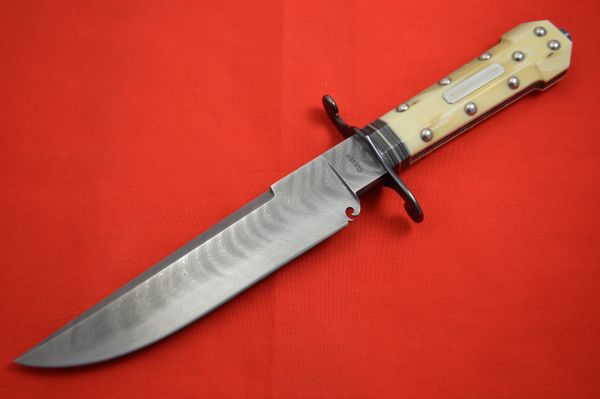 Steve Culver, M.S. Dog Bone Bowie, West Texas Wind Pattern Damascus, Fossilized Handle (SOLD)
This outstanding Dog Bone Bowie was crafted by Mastersmith Steve Culver.  Definitely what one would consider to be one of his more upscale or dress Bowies.  Steve received his Mastersmith rating from the American Bladesmith Society in 2007, and has been a full-time maker since 2004.  He is a master at making both fixed blade knives and folders, and he forges all of his own Damascus.  He is consistently producing outstanding pieces that are highly coveted by collectors and users alike.  His grinds, and fit and finish are second to none.  To hold a Steve Culver Bowie in your hand is the only way to truly appreciate the craftsmanship and balance of the piece.  Steve is not currently taking orders.  The only way to get one of his pieces is either in the secondary market, or at a show he attends.
Steve forged the blade from 1084 and 15N20 steels, into an outstanding West Texas Wind patterned Damascus.  The Dog Bone shaped handle is made from two beautifully matched, creamy presentation grade, fossilized organic slabs.  The fittings, including the spacers, pins and liners are all nickel silver.  The guard is 1018 blued steel.  And the ferrules and handle frame are also forged Damascus.  This knife absolutely melts in the palm of your hand. You can tell how well balanced it is as soon as you hold it.  The knife is on consignment from the collection of another world renown Mastersmith.  He acquired it directly from Steve, and it has been in his collection since.  Being a Mastersmith himself, the knife was well cared for, and stored properly.  The knife is in excellent, unused condition.  I dare say it is in Mint Condition.  This Mastersmith is "thinning" out his collection, and Windy City Knives is honored to have been appointed as his chosen purveyor.
This is a rare opportunity to own one of Steve's Damascus Bowies, without waiting.  It will be shipped in a padded, zippered case.  There is no sheath.  This is not likely going to be a piece that is carried or used.  It will likely reside in a collection and / or be displayed.  If you wanted to design your own sheath, I would not hesitate recommending
Kenny Rowe Leathers
.  They have a great deal of experience making quality sheaths, and working with ABS knives.  This one would be a great addition to any collection.  Steve's knives are well-respected among both makers and collectors.  This is a difficult and complicated build.  According to Steve, if he were to make this knife today, the price would be north of $4500.

Condition:  New, Mint Condition
                    Never used, carried, or sharpened
Overall length:     13 1/2"

Blade length:        8"
Handle length:      5 1/2"