Steve Dunn, M.S. Engraved Carbon Bowie, African Blackwood Handle (SOLD)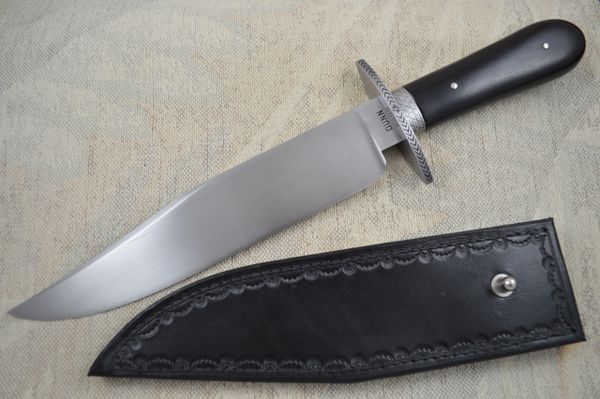 Steve Dunn, M.S. Engraved Carbon Bowie, African Blackwood Handle (SOLD)
This is a large Steve Dunn, M.S. carbon steel Bowie.  This knife is from my personal collection.  It was purchased directly from Steve at a Blade Show in Atlanta several years ago.  It is in the same "new" condition, as when I took it off his table.  It has been stored outside the sheath, coated in protective oil, in my safe.  The blade is forged from 52100 steel, and the handle is African Blackwood.  The fittings are 416 stainless steel.  Steve is a Master Engraver and teaches at the GRS Engraving School in Emporia, KS.  He has done an outstanding job of engraving the guard, as well as the bolster (ferrule) of the knife.  This knife has great lines, is well balanced, and feels great in your hand.  Included is a handmade frog button leather sheath by Gwen Dunn.  This is an outstanding example of Steve's forging and engraving capabilities.  Steve is not making many fixed blade knives these days.  If you're lucky, he may have one at his table at the Blade Show.  You're more likely to find him working on a slip-joint folder.  He is definitely spending more of his time engraving other makers knives, and guns.  This one would be a great addition to any collection.  Steve told me recently, that if he were to make this knife and sheath today, it would cost about $2,000.
Condition: 
New from the maker (2010)
                    From my personal collection - never used, carried or sharpened
Overall length:     13 3/4"

Blade length:        8 3/4"