Steve Dunn M.S. Engraved Slip Joint Folder (SOLD)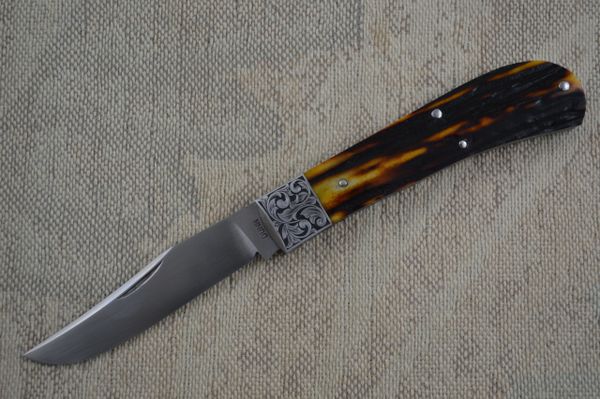 Steve Dunn M.S. Engraved Slip Joint Folder (SOLD)
Steve Dunn, Mastersmith began making knives as a hobby in 1988 and in 1990 enrolled in the basic forging class at the ABS school in Washington, Arkansas where he started forging his own Damascus. By 1994 he had reached the level of Master Bladesmith in the American Bladesmith Society, and began teaching at the ABS knife-making school. In 2003 he was selected to serve on the ABS Board of Directors. All of Steve's knives are sole authorship. In fact, Steve even does his own engraving. in April 2002, he attended a basic engraving class at the GRS Engraving School in Emporia, Kansas, and is now an instructor at the GRS Engraving School. Steve is at the top of his game. His knives are highly sought after by collectors. And it doesn't hurt that he is a real gentleman and very approachable.
This gorgeous slip joint folder features two beautifully matched stag scales held by 4 pins. Known for his forged blades and Damascus, Steve is now creating some of the most outstanding folding knives we've seen. His teacher - non other than Bill Ruple. And the fit and finish, and attention to detail is outstanding. The engraving on the bolster was done by Steve. The blade has a smooth nail nick pull, locks up tight with no play whatsoever, and falls dead center when closed.
Condition:
Previously owned. Mint!
Never used, carried,or sharpened.
Overall length: 7 1/4"
Blade length: 3 1/4"
Closed length: 4"