Steve Dunn M.S. Mosaic Damascus, Fossilized Bowie, 24K Gold Scroll Work (SOLD)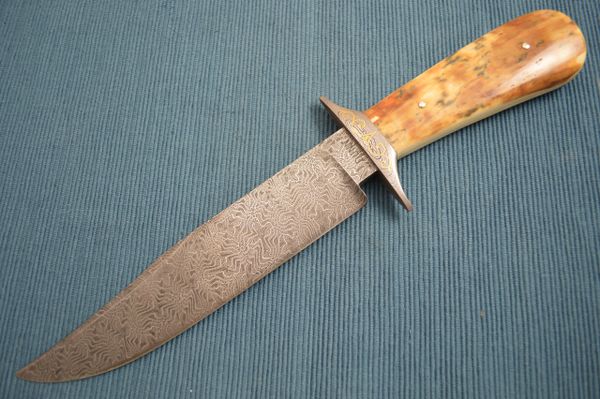 Steve Dunn M.S. Mosaic Damascus, Fossilized Bowie, 24K Gold Scroll Work (SOLD)
Steve Dunn, Mastersmith began making knives as a hobby in 1988 and in 1990 enrolled in the basic forging class at the ABS school in Washington, Arkansas where he started forging his own Damascus.  By 1994 he had reached the level of Master Bladesmith in the American Bladesmith Society, and began teaching at the ABS knife-making school.  In 2003 he was selected to serve on the ABS Board of Directors.  All of Steve's knives are sole authorship.  In fact, Steve even does his own engraving.  In April 2002, he attended a basic engraving class at the GRS Engraving School in Emporia, Kansas, and is now an instructor at the GRS Engraving School.  Steve is at the top of his game.  His knives are highly sought after by collectors.  And it doesn't hurt that he is a real gentleman and very easy guy to talk to.
This gorgeous Bowie knife is brand new, and just received direct from Steve Dunn's shop in Kentucky.  It features two beautifully matched, creamy fossilized organic scales with veins of blue and green, held by 2 pins.  The Mosaic Damascus blade is made from 1075 and 15N20 steels, and the modified "W" pattern sculpted Damascus guard has some beautiful 24K gold scroll work.  Steve has stamped "DUNN" on one side of the ricasso, and "MS" on the other side.  There is no sheath.  Contact
Kenny Rowe
, he does a lot of leather sheaths for ABS knifemakers...and tell him Windy City Knives sent you.  Comes in a padded, zippered case.
Condition:
  New from the maker.  Mint.
Overall length:  11 3/4"
Blade length:     7 1/4"
Handle length:   4 1/2"