Steve Dunn, M.S. Seashell "S" Guard Bowie Knife, Fossilized Handle (SOLD)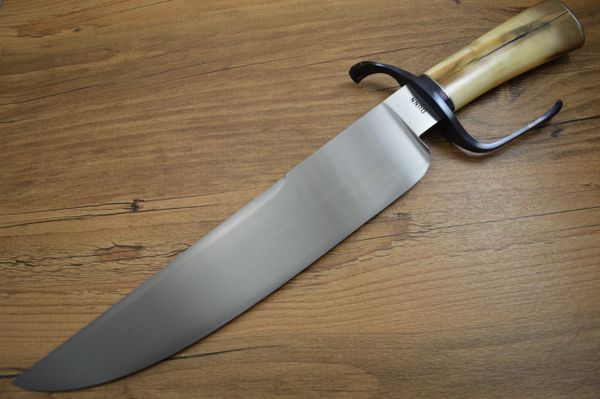 Steve Dunn, M.S. Seashell "S" Guard Bowie Knife, Fossilized Handle (SOLD)
This is a large Steve Dunn, Mastersmith carbon steel, Seashell "S" Guard Bowie Knife.  This knife is from my personal collection.  It was purchased directly from Steve at a Guild Show, a number of years ago. The blade is forged from 52100 steel, and the handle is fossilized organic material.  The fittings - S Guard. bolster / ferrule, and butt cap - have all been "blued".  There is engraving and file-work on all the fittings, as seen in the pictures.  Steve is a Master Engraver and teaches at the GRS Engraving School in Emporia, KS.  The knife has great lines, is well balanced, and feels great in your hand.   It is in unused condition.  It has been stored in a case, in my safe.  Despite the blade being regularly coated in protective oil, it has developed some very light pepper spots.  I have taken a photograph of the worst part - which isn't too bad.  These can be buffed out, if the new owner chooses to do so.  The handle has been regularly coated in mineral oil, but developed a crack on one side several years ago.  It was sent back to Steve to be repaired.  It is tight and stabilized.  Steve is not making many fixed blade knives these days.  If you're lucky, he may have one at his table at a show.  You're more likely to find him working on a slip-joint folder, or engraving a gun.  The knife comes in a padded, zippered case - there is no sheath.  This one would be a great addition to any collection.  The price reflects the crack in the handle and the carbon spots on the blade.  If Steve were to make this knife today with these materials, you are looking at a price of at least $2500.
Condition: 
From my personal collection - never used, carried or sharpened
                   (As noted above)
Overall length:     16"

Blade length:       11"
Handle length:      5"