Steve Ryan RUF Titanium Frame Lock, Clip Point Folding Knife (TRADED)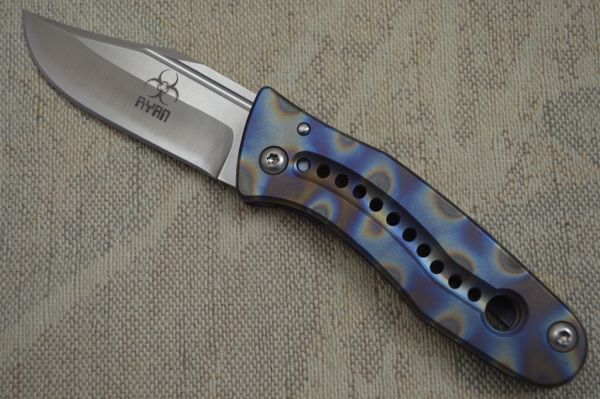 Steve Ryan RUF Titanium Frame Lock, Clip Point Folding Knife (TRADED)
Steve Ryan usually builds large, uniquely designed folders. Unlike his more typical work, this knife was designed to be more EDC friendly. If you are a fan of Steve's work, and want a pocket friendly knife for every day carry that won't break the bank, this is a great choice. The RUF is constructed with a full titanium frame lock handle that is a mere .436" wide, and weighs a scant 4.1 ounces. Both the titanium scales and clip have been given a matte flamed finish. The oversized clip is contoured and sculpted to provide a comfortable, unobtrusive and deep pocket carry. The blade steel is CPM S35VN stainless, with a clip point profile and bruised flats and satin grind lines. The blade groove fuller serves as the opener. Designed for Monkey Edge, each RUF is hand ground, built, and finished by Steve. Although previously owned, the knife is in perfect condition. I only call it near mint because of the fact that it was previously owned. There isn't a mark on it. It locks up tight with no blade play, and the blade seating is dead center. It will come in a padded zippered case.
Condition:
Previously owned, Near Mint Condition
Never used, carried or sharpened
Overall length: 7 1/2"

Blade length: 3 1/2"

Closed length: 4"