Strider SJ75 Baby Huey, Frame-Lock, OD Green G10 Scale (SOLD)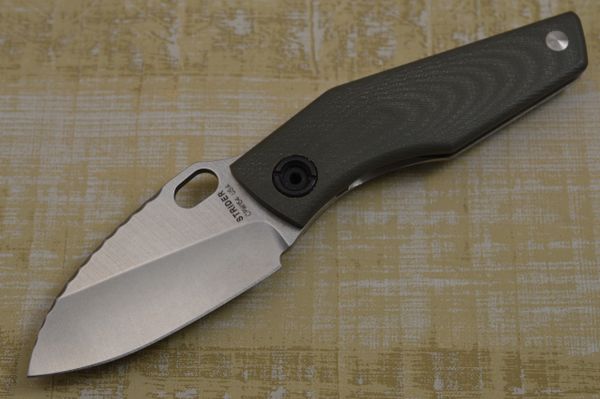 Strider SJ75 Baby Huey, Frame-Lock, OD Green G10 Scale (SOLD)
The SJ75 from Strider is a solid design that is ideal for everyday carry and capable of doing much more.  It has a leaf style shaped CPM-154 steel blade, with a stonewashed finish, and file-work running the length of the blade spine.  This frame-lock folder features an OD Green G10 presentation side, and a polished titanium lock bar side with subtle linear texturing.  The same type of file-work runs along the top edge of both sides of the frame.  The edges of the handle have been gently sculpted to fit comfortably in-hand.  A simple, yet highly functional knife design.  The titanium pocket clip is set for tip-up carry.  The blade opens smoothly with the oval thumb hole, and locks solidly in place.  The blade is centered in the frame when closed.  The knife was previously owned, and is in near mint condition.  It will ship with a padded, zippered pouch.  This would make a great EDC - ready to clip onto your pocket.
Condition:  Previously owned.  Near mint condition.
                  Never carried, used or sharpened
Overall length:   7 1/8"




Blade length:     3"




Closed length:   4 1/8"