Tim Herman Engraved Blacklip Tahitian Pearl & Damascus Lock-Back Folding Knife (SOLD)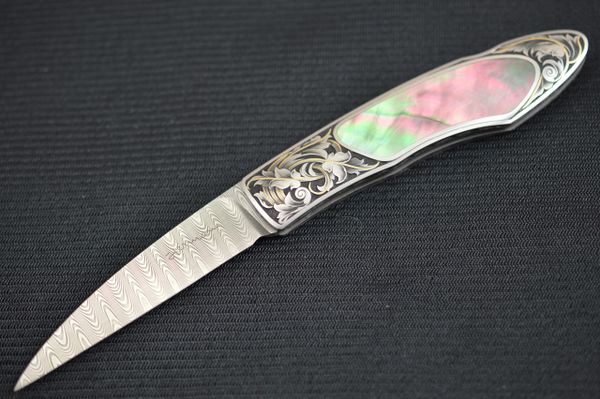 Tim Herman Engraved Blacklip Tahitian Pearl & Damascus Lock-Back Folding Knife (SOLD)
The beautiful knives that Tim Herman makes are absolutely flawless.  He has learned well from so many masters, and gone on to create and build masterful pieces of art of his own design.  He has also spent years mastering hand engraving techniques, and takes great pride in the true art knives he offers collectors.  Today, Tim Herman specializes in hand-built, interframe folders, masterfully embellished with engraving and inlays.  No detail escapes his discerning eye – the best steels, perfect gemstones, flawless handle materials, and the definition of perfect fit and finish.
This custom interframe, lock-back folding knife is a classic example of the quality of Tim's work.  It features two premium grade, fiery blacklip Tahitian pearl handle scales, a Mike Norris stainless fine ladder pattern Damascus Wharncliffe-shaped blade, and an engraved 416 stainless steel frame with 24K gold inlays.  All the engraving is sole authorship done by Tim.  If you were to look at the engraving under a loupe, you would see the crisp lines and shading.  He truly has mastered the art of engraving.
The knife opens as smooth as silk.  There is no nail nick or thumbstud.  It locks up tight with absolutely no blade play, and the blade is perfectly centered in the frame when closed.  This knife is in pristine, mint condition.  This is a gorgeous piece for any collector, and a centerpiece for any collection.  It will come in a case or protective sleeve.

Condition:  Previously owned.  Mint condition.
                    Never used, carried or sharpened
Overall length:  5 1/2"

Blade length:    2 3/8"

Closed length:  3 1/8"