Toby Hill Remington 1306 Lock-Back, Amber Stag Scales (SOLD)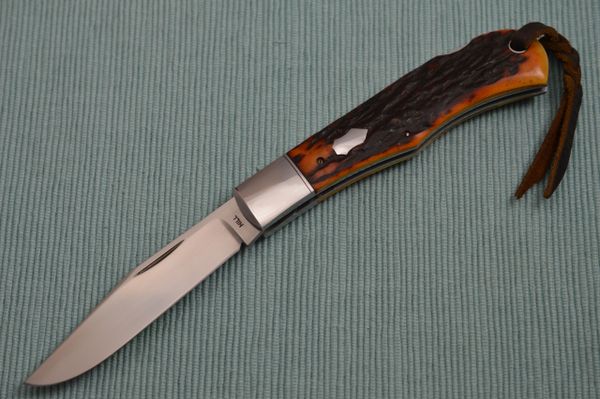 Toby Hill Remington 1306 Lock-Back, Amber Stag Scales (SOLD)
Toby Hill has been making knives for just about 3 years.  His knives do not reflect the relatively short time he has been at it.  They are the work of a more seasoned slip-joint and lock-back knifemaker.  No wonder, Toby learned to make knives from none other than Bill Ruple, a master at making traditional patterned folders.  Toby's work is clean, and he has a great eye for detail.  Toby is definitely "one to watch".  This knife is Brand New and direct from Toby's shop in Pleasanton, TX.
This Remington 1306 lock-back features a CPM-154 stainless steel blade with some fine jimping on the spine, and beautifully matched amber dyed stag scales from Culpepper and Company, with an inlaid 416 stainless Federal shield on the presentation side.  The bolster is 416 stainless steel, and has a shadow line.  The pins, lanyard hole, and liners, are also all 416 stainless.  He's also include a braided leather lanyard.  The blade locks up tight with no play, and the blade seating is centered.  Nice comfortable nick, with a smooth, even pull.  Toby has also included a Hill Knives padded, zippered case.

Condition:  New from the maker

Overall length:   8"

Blade length:     3 1/2"

Closed length:   4 1/2"