Todd Begg Full Custom Damasteel Field Marshall II PROTOTYPE (SOLD)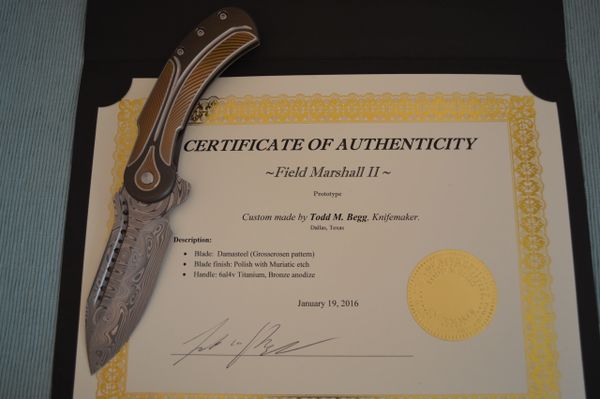 Todd Begg Full Custom Damasteel Field Marshall II PROTOTYPE (SOLD)
This is the full custom, handmade Todd Begg Field Marshall II PROTOTYPE.  It is the frame-lock flipper that spawned Reate's wildly popular Steelcraft production version of the Field Marshall.  This knife features a Damasteel blade with their Grosserosen pattern, finished with a polished Muriatic etch.  The handle frame is Bronze Anodized 6AL4V Titanium.  It runs on upgraded ceramic IKBS ball bearings.  It also features Todd Begg Design (Patent Pending) replaceable 6AL4V Titanium lock-bar, with integral lock-bar over-travel stop and ceramic detent.  The low-ride bronze anodized pocket clip has an inset ceramic ball at the tip, for easy pocket carry.  It is set for tip up carry.
The knife exhibits exceptional flipping action - perfect detent for a strong, smooth, and quick deployment.  The blade locks up vault tight, and the lock releases easily without the slightest evidence of stick.  The blade sits dead center in the frame when closed.  This knife is previously owned, and in mint condition.  This knife is Todd Begg perfection.  For the serious collector.
The knife was made in January 2016.  Todd has signed and dated the inside of the frame.  Included with the knife is a signed Certificate of Authenticity.  It comes in a padded, zippered case.
Condition:  Previously owned.  Mint Condition
                  Never used, carried, or sharpened
Overall length:   9 1/8"
Blade length:     4"
Closed length:   5 1/8"