Todd Begg M.I.G. Civilian Issued Glimpse (C.I.G.), IKBS, Jeweled Liners #066 (SOLD)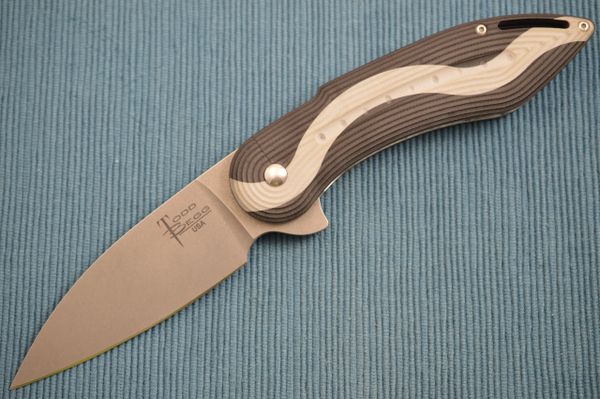 Todd Begg M.I.G. Civilian Issued Glimpse (C.I.G.), IKBS, Jeweled Liners #066 (SOLD)
This is one of Todd Begg's most popular folding knife models - the Glimpse.  This particular knife is the Civilian Issue (C.I.G.) version of the M.I.G. (Military Issue Glimpse).  The knife features a flat ground, modified Wharncliffe , stonewashed blade made of 154CM stainless steel, with IKBS.  The flipping action and detent are spot-on.  No wrist action is needed.  The blade jumps out of the handle when you engage the flipper tab.  The handle scales are milled and textured two-tone G10 - black with gray inlays - providing a very secure feeling in-hand.  The backspacer is black G10, as well.  The stainless steel liners have been jeweled, adding a nice upgraded appearance to the knife.  The hardware is polished stainless, and the pocket clip is stonewashed titanium.  The blade locks up tight with no play or movement, sits dead center between the liners, and has an easy lock release.  Each of these knives is serialized, and this one is #C066.  The knife is in mint, previously owned condition.  The knife will come in a padded, zippered case.

Condition:  Previously owned. Mint
                   Never carried, used or sharpened.

•           Overall length:  8 7/8"
•           Blade length:    3 3/4"
•           Closed length:  5 1/8"