Tom Ploppert Jigged Micarta "Boogie Man" Slip-Joint Folding Knife (SOLD)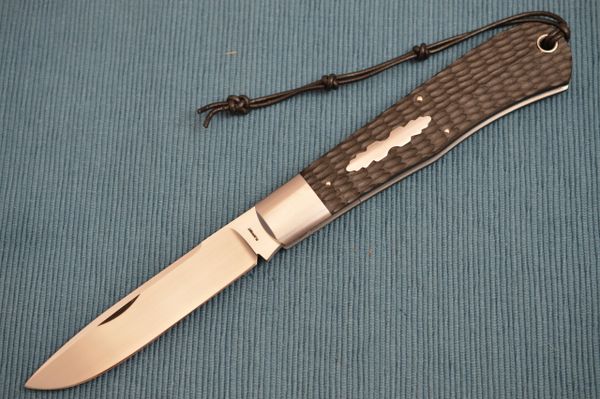 Tom Ploppert Jigged Micarta "Boogie Man" Slip-Joint Folding Knife (SOLD)
Tom Ploppert is a part-time maker from Cullman, AL.  He credits his inspiration behind his knife making passion to Bill Ruple - a master at making slip joint folders.  Tom built his first slip joint knife in April 2009.  He later took a slip joint making class taught by Bill Ruple and Rusty Preston (another Ruple alum).  Tom has certainly been a good student.  You can see his passion in his work, and tell it from speaking with him.  Tom's fit and finish, and attention to detail is obvious once you hold one of his folders.  He's also a humble and personable guy. 
If you like large slip-joint folding knives, then the "Boogie Man" is the knife for you.  This Boogie Man is brand new and just in, direct from Tom.  The Boogie Man is a pattern that Tom received from the legendary Tony Bose.  The blade, as well as the spring are CPM 154 steel.  The bolster and liners are 416 stainless, and are of integral construction.  For the scales, Tom used "roofline jigged double black Micarta", also sometimes referred to as "Ka-Bar Micarta".  The fancy Gimp-shaped variant shield is also 416 stainless.  There's also a lined lanyard hole, and Tom's included a knotted leather lanyard.  The blade has a half stop, locks up tight with no play, and the blade seating is centered.  The blade pivots around an Aluminum Bronze Bushing.  Nice comfortable nail nick, with a tight pull, but not a nail-breaker, IMHO.  Tom's grinds are clean and symmetrical, with tight tolerances!  Comes in a padded, zippered "Ploppert" case.
Condition:  New from the Maker. Mint.
Overall length:    10"




Blade length:      4 1/4"




Closed length:    5 3/4"