Tom Ploppert Prototype Stag Front Flipper Liner-Lock Folding Knife (SOLD)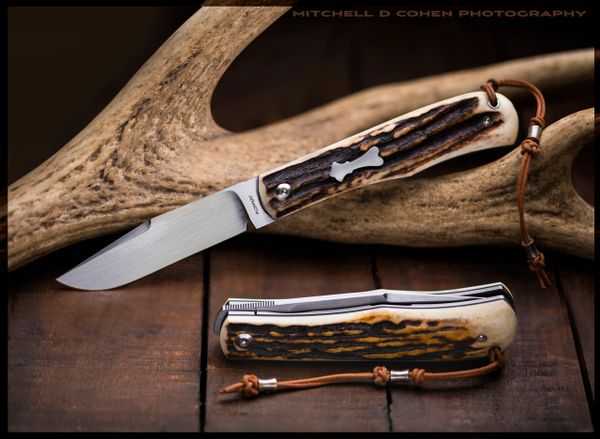 Tom Ploppert Prototype Stag Front Flipper Liner-Lock Folding Knife (SOLD)
Tom Ploppert is a part-time maker from Cullman, AL.  He credits his inspiration behind his knife making passion to Bill Ruple - a master at making slip joint folders.  Tom built his first slip joint knife in April 2009.  He later took a slip joint making class taught by Bill Ruple and Rusty Preston (another Ruple alum).  Tom has certainly been a good student.  You can see his passion in his work, and tell it from speaking with him.  Tom's fit and finish, and attention to detail is obvious once you hold one of his folders.  He's also a humble and personable guy. 
This is one of Tom's first two liner-lock front flipper folding knives.  It was built in the style of a traditional knife, with a Remington 1123 blade and a Remington 1306 frame, without a bolster.  And in my opinion, Tom nailed it.  In addition to Tom's "PLOPPERT" ricasso stamp, he has also stamped the opposite side of the knife with "PROTOTYPE".  This knife is brand new and just in, direct from Tom.  The blade is CPM 154 stainless steel.  The scales are premium antique stag with black spacers behind the scales.  The blade runs on Ceramic Bearings, and flips effortlessly and smoothly.  The shield is 410 stainless steel, and the liners are titanium.  The blade locks up tight with no play when opened, and has good blade seating between the liners when closed.  Comes in a padded, zippered case, provided by Tom.  All photography done by Mitchell Cohen at Prairie Digital Photography in Northbrook, IL.
Condition:  New from the Maker. Mint.
Overall length:    8"




Blade length:      3 1/2" (cutting edge 3 1/4")




Closed length:    4 1/2"