Trouble Blades Full Size Custom Mofo-L-Frag, B.W. Swedge Folding Knife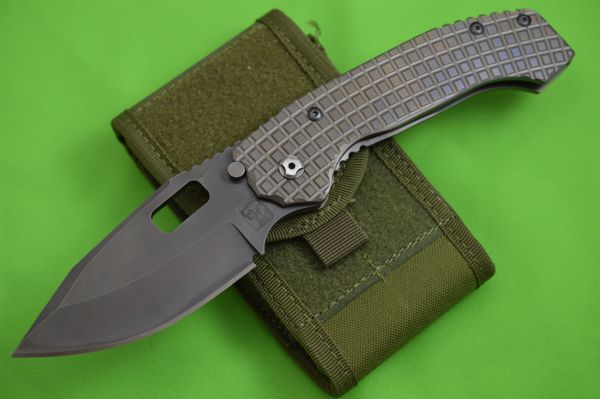 Trouble Blades Full Size Custom Mofo-L-Frag, B.W. Swedge Folding Knife
This full size, custom Trouble Blades Mofo-L-Frag is an overbuilt, heavy duty folding knife, ready to tackle the toughest tasks.  This large folder features a full titanium frame-lock handle, with a frag pattern presentation side and smooth lock side.  The multi-ground, big bellied blade is what maker Tim Bakonyi refers to as a B.W. Swedge grind.  In fact, the Specwear steel blade width is 1.75", and it has been tested to 59.5 Rockwell Hardness.  The backspacer is black G10, and the heavy duty tip up mounted pocket clip is anodized titanium.  The blade opens with either the ambidextrous thumb stud, or the oval hole opening.  The blade has a notches on the spine that correspond to notches on the forward portion of the frame, as well as notches at the rear of the frame that match up with the notches on the backspacer.  All these notches provide for superior grip and better control of the knife.  It has rock solid lockup, and just about centered blade-seating.  It is in new condition.  It will ship in the pictured OD green Velcro flap pouch, with Certificate of Authenticity and Trouble Blades sticker.  It is serial number 021, built on December 1, 2017.

Condition:  Previously owned.  New, near mint condition.

                    Never used, carried or sharpened.
Overall length:   9 1/2"

Blade length:     4"

Closed length:   5"