Tyler Turner Clodbuster Prototype, Slip-Joint Folding Knife (SOLD)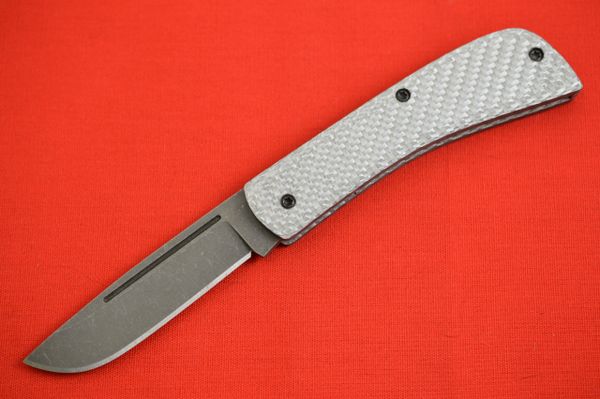 Tyler Turner Clodbuster Prototype, Slip-Joint Folding Knife (SOLD)
Tyler Turner is a part-time knifemaker from Hopkins, MO.  He is a full-time farmer and family man.  He makes hand-ground folders and fixed blade knives.  He strives to be creative and innovative with his designs. He uses only the best materials.  His attention to detail is impeccable.

This is Tyler's Clodbuster, liner-less, slip-joint folding knife.  And although not marked as such, anywhere on the knife, Tyler has told me that this was the Prototype, built in the Spring of 2017.  It features a tumbled, drop point PSF27 steel blade and backspring, with Rockwell hardness 59-60 HRC.  This knife does not have a half-stop.  The scales are Silver Twill.  Tyler marked the backspring "T. TURNER".  The blade locks up tight with no blade play, and the blade seating is perfectly centered.  Nice long nail nick, with a firm, smooth pull.  This knife does the walk-and-talk.  Comes in a felt, Velcro closure pouch.

Condition:  Previously owned.  Mint.
                    Never used, carried or sharpened
Overall length:  6 1/2"

Blade length:    2 3/4"

Closed length:  3 3/4"