Tyler Turner Dress Damasteel DONK, Hyperdrive Black Timascus, Zirconium, MOP, 2018 ICCE (SOLD)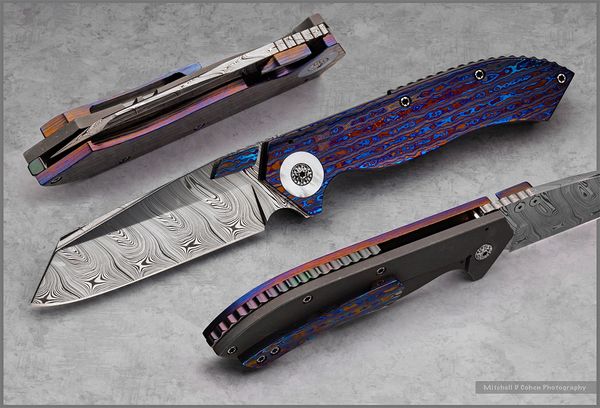 Tyler Turner Dress Damasteel DONK, Hyperdrive Black Timascus, Zirconium, MOP, 2018 ICCE (SOLD)
Tyler Turner is a part-time knifemaker from Hopkins, MO.  He is a full-time farmer and family man.  He makes hand-ground folders and fixed blade knives.  He strives to be creative and innovative with his designs. He uses only the best materials.  His attention to detail is impeccable.

This is Tyler's frame-lock Dress DONK.  It is Brand New, direct from Tyler at the 2018 International Custom Cutlery Exposition (ICCE).  This knife has it ALL!  It features a Dense Twist Damasteel blade, Hyperdrive Black Timascus scale on the presentation side and Titanium on the lock-bar side, Mother of Pearl Pivot Collar, Custom Pivots, heat treated raised and carved Zirconium backspacer, and Hyperdrive Black Timascus Pocket Clip and Thumbplate.  The blade can be opened with a "flick" of the thumbplate, or manually - the "old fashioned" way.  Tyler marked the inside of the Hyperdrive Black Timascus side "TURNER".  The blade exhibits great detent, locks up tight with no blade play, and the blade seating is perfectly centered.  Comes in a hard plastic clamshell box, with Tyler's signed business card with the knife's specs.

Condition:  New from the Maker.
Overall length:  8 5/8"
Blade length:    3 5/8"

Closed length:  5"