Tyler Turner "Tuxedo Zulu" Slip-Joint Folding Knife, William Evans Engraving (SOLD)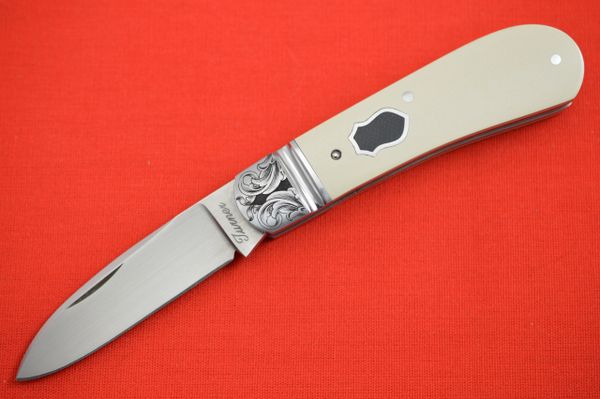 Tyler Turner "Tuxedo Zulu" Slip-Joint Folding Knife, William Evans Engraving (SOLD)
Tyler Turner is a part-time knifemaker from Hopkins, MO.  He is a full-time farmer and family man.  He makes hand-ground folders and fixed blade knives.  He strives to be creative and innovative with his designs. He uses only the best materials.  His attention to detail is impeccable.

This is Tyler's "Tuxedo Zulu".  This stunning gent's slip-joint folder features a CPM-154 stainless steel blade, and creamy vintage White Micarta scales.  The fluted bolster has been expertly engraved by Evan Watson of William Evans Hand Engraving (William Evans Designs).  Tyler has placed a Black G10 Federal shield with a 410 stainless steel "shadow" band on the presentations side.  With the matching black liners, the knife has great contrast and that classy tuxedo look - perfect for dress carry.  The stainless steel liners are integral to the bolster.  The knife has a half-stop, and is flush in all positions.  Ample nail nick with a firm, smooth pull.  And it walks-and-talks.  The blade locks up tight with no play, and the blade seating is perfectly centered.  The knife was completed 7-11-20, and the engraving was done on 8-20-20.  It came to Windy City Knives direct from Tyler.  Comes in a hard plastic clamshell box, with both Tyler's COA and Evan's COA.

Condition:  New from the maker.
Overall length:  6"
Blade length:    2 5/8"

Closed length:  3 3/8"