"Unnamed" Lee Williams Carved Titanium Frame-Lock Flipper, 1 of 2 (SOLD)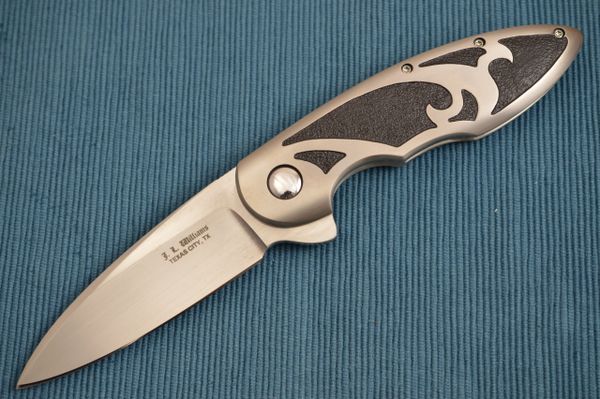 "Unnamed" Lee Williams Carved Titanium Frame-Lock Flipper, 1 of 2 (SOLD)
This is a rare J.L. "Lee" Williams carved titanium frame-lock flipper.  This is an earlier knife from Lee, made in the 2008 / 2009 time-frame.  It is a pre-Kickstop model - rare and hard-to-find.  In fact, Lee told me that he never named the model of the knife, and only made two (2) - perhaps three (3) - he couldn't recall.  We really like this model, because when the blade is flipped opened, the flipper tab functions like a single-finger guard.  It features a hand-rubbed, satin finished blade, and a satin titanium frame with carving work done on both sides of the frame, and black textured, stippling done on the inlays.  It also features a carved titanium stippled clip, and a carved and stippled backspacer.  It also has jimping on the thumb-rest.  Lee's fit and finish is second to none.  This flipper is smooth and fast - it requires no wrist action whatsoever.  The blade seating is dead center, the lock-up is rock solid, and it has a strong detent.  Absolutely outstanding work.  This knife was acquired directly from Lee at the 2009 Blade Show.  It has been stored in my safe, since.  It is in mint condition, and was even recently sent back to Lee for a clean-up.  Comes in a padded, zippered case.
Condition:  New, Mint Condition.
                  Never carried, used or sharpened.
Overall length:  9"




Blade length:    4"




Closed length:  5"