Vintage Buck Custom Shop San Diego, Iron Mistress Bowie Knife, Stacked Leather Handle (SOLD)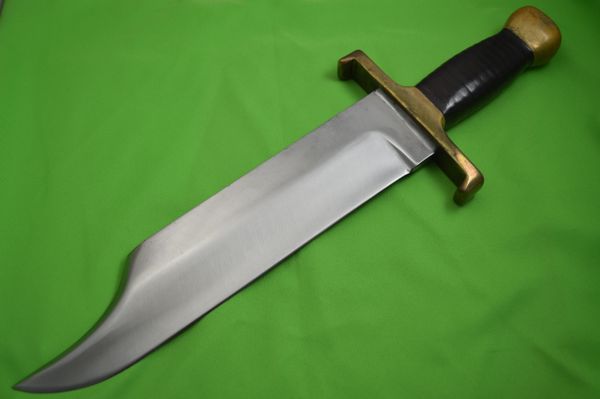 Vintage Buck Custom Shop San Diego, Iron Mistress Bowie Knife, Stacked Leather Handle (SOLD)
This vintage Buck Iron Mistress Bowie Knife was made in the Buck Custom Shop in San Diego, California.  The guard is stamped "Buck Custom San Diego".  It features a 0.38" thick tool steel blade, stacked leather handle, brass double lugged guard and brass pommel with a "skull crusher".  The blade also has "BUCK" stamp on the same side as the guard stamp.  The top of the clip point has not been sharpened.  Both the guard and pommel have developed a patina from age, with some very minor "greening" along the seam, between the brass and leather.  This is a large, heavy knife.  It was previously owned, and considering its age, is in excellent condition.  The blade appears to be unused and unsharpened.  There is no sheath, so I assume it has never been carried.  There is no case, either.  It will come securely and safely packed.  And if I can find a padded zippered case, I will make sure to include it.  
Condition: Previously owned. Excellent.
                   Never used, carried or sharpened
Overall Length:      17 5/8"

Blade Length:        12"

Handle Length:      5 5/8"
Weight:                  3 lbs. 10.5 oz.