Vintage Jimmy Lile No Dot Massive Crown Stag Bowie Knife (SOLD)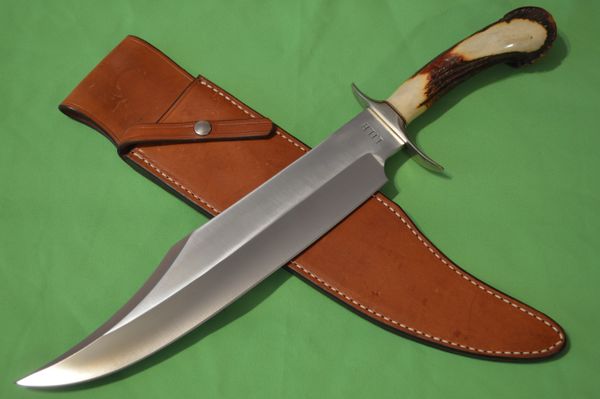 Vintage Jimmy Lile No Dot Massive Crown Stag Bowie Knife (SOLD)
Jimmy Lile was affectionately known as the "The Arkansas Knifemaker".  He was born in 1933, the son of a coal miner, in Russellville, AR.  Like many of the influential knife makers of the 20th century, he began his knife making career by fashioning a blade from a piece of scrap metal, oftentimes an old file.  Jimmy Lile Knives achieved international fame when he was approached by Sylvester Stallone to design the modified clip bowie survival knife for the first two Rambo movies.  His wife Marilyn engraved his name on many of his early knives.  He has a celebrity list of collectors who own his work, from Hollywood actors to U.S. Presidents, including Richard Nixon, Gerald Ford, Ronald Reagan and Bill Clinton.  James B. Lile passed away in May of 1991.  
This is one of Jimmy Lile's massive Crown Stag Bowies.  The 12.25" blade is made from an unknown steel, perhaps D2, ATS-34 or 440C.  Jimmy was known to use all.  The clip (top edge) is sharpened about 5" from the tip.  The handle is a beautiful piece of Crown Stag, in perfect condition.  It has great color and figure.  And the curvature of the stag has a comfortable fit in-hand.  The double guard is nickel silver, and there is a red and brass spacer, below the guard.  Stamped on one side of the blade ricasso is "LILE", without a dot.  There are no other markings on the knife.  The knife came out of a private collection.  Overall, it is in excellent condition.  There are a few very fine micro scratches on the blade, and a couple of stray faint sheath marks.  The nickel silver guard has developed a patina.  I see no carbon spotting or pitting of the blade.  It appears to have never been used, carried, or sharpened.  The leather belt sheath with keeper strap is original to the knife, and was made by Buffaloe Maker, Magnolia, ARK.  The sheath is also stamped Jimmy Lile, The Arkansas Knifemaker, along with Russellville, ARK and phone number.  It too is in excellent, uncarried condition, with on a couple of minor storage marks.  This is one of Jimmy's coveted Bowies, and would be a great additional to any custom collection.  A piece of Jimmy Lile's knifemaking career, and certainly a piece of knifemaking history.

Condition:  Previously owned. Excellent.
                    Never used, carried or sharpened.

Overall length:   18 1/2"
Blade length:     12 1/4"
Handle length:    6 1/4"
Blade Height:     2 1/4"
Weight:               25.6 ounces