Vintage John Nelson Cooper Massive Bowie Knife (SOLD)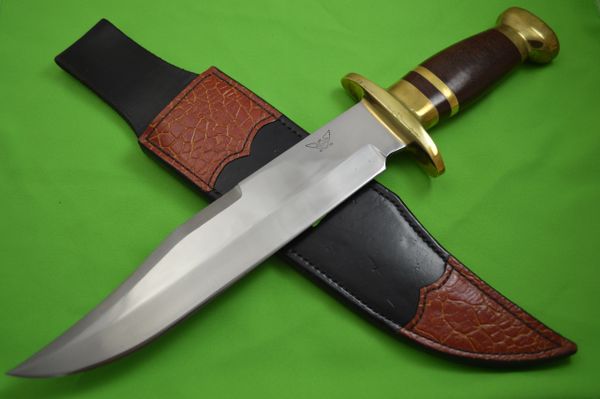 Vintage John Nelson Cooper Massive Bowie Knife (SOLD)
Source...Wikipedia:  John Nelson Cooper (1906–1987) was a custom knifemaker who was a founding member of the Knifemakers' Guild.  He was a mentor to Jody Samson and made knives for over 60 years.  Cooper began making utility knives and butcher knives in Tremont, Pennsylvania in 1924 while working as a welder.  Eventually he moved on to welding in the Virginia shipyards and began making hunting knives, fishing knives and combat knives as a second business.  Cooper's knives were made by the stock removal method and he attached his handles using traditional methods such as rivets and pins until 1965 when he retired from welding and relocated to Burbank, California as a full-time knifemaker with his nephew, George Cooper as Cooper Knives.  As a full-time knifemaker, he noticed that his traditional methods of knife making could leave gaps between blade, guard, and handle material where water or blood could collect and eventually corrode the knife.  He developed a new method of construction which made the knife and handle into a solid, bonded unit by welding, brazing, and using epoxy.  He patented these ideas in 1967 (3481038) and 1971 (3595104).  A prolific maker who made over 100 knives in a month, Cooper taught his trade to knifemakers, Jody Samson and Vic Anselmo in 1969.  He was a charter member of the Knifemakers' Guild.  Cooper made push daggers for police officers and FBI agents.  Celebrities such as John Wayne, Sammy Davis Jr. and Lee Marvin collected Cooper's knives.  Cooper made knives used in film and television such as the Arkansas toothpick in The Sacketts and a Bowie knife for Jeremiah Johnson.  In 1978, Cooper opened a new knife shop in Lufkin, Texas where he made 1,000 knives per year until his retirement from knifemaking in 1981.  In retirement he made a few knives every year until his death in 1987.
This is one of John Nelson Cooper's massive and heavy Bowies.  The highly polished 10.875" long blade is made from tool steel, with a mildly sharpened clip.  The massive blade is 1/4" thick.  The handle is grainy brown micarta with a thick brass spacer.  The double guard and butt cap are also brass.  The guard and butt cap have some patina from age and storage.  Nothing a bit of polish wouldn't take care of.  Stamped on the flat of the presentation side of the blade is John's signature (at the time) "COOPER" inside the outline of an eagle with spread wings.   The knife came out of a private collection.  Overall, it is in excellent condition.  There are a few very fine micro scratches on the blade from the sheath, and a couple of stray pepper spots.  The last photo shows some of the patina on the brass, as well as how minor the spots are.  It appears to have never been used, carried, or sharpened.  The leather belt sheath is original to the knife.  There are what appears to be alligator overlays on the presentation side, at the throat and tip of the sheath.  The sheath is unmarked.  It too is in excellent, uncarried condition, with only a couple of minor storage marks.  These larger Cooper knives are becoming increasingly harder to find, particularly one with a blade this big.  It would be a great additional to any custom knife collection.  A piece of John Nelson Cooper's knifemaking career, and certainly a piece of knifemaking history.

Condition:  Previously owned. Excellent.
                    Never used, carried or sharpened.

Overall length:   16 1/2"
Blade length:      10 7/8"
Handle length:    5 5/8"
Blade Height:     2"
Weight:               2 pounds 10 ounces