Wayne Valachovic, M.S. Damascus, Abalone, Tail-Lock Gents Folder (SOLD)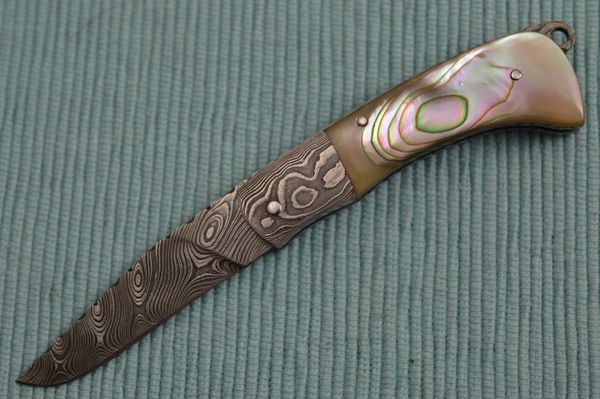 Wayne Valachovic, M.S. Damascus, Abalone, Tail-Lock Gents Folder (SOLD)
Wayne Valachovic was the 5th knifemaker to earn the prestigious title of Mastersmith from the American Bladesmith Society in 1982. He retired from knifemaking in the mid 2000's. His knives are becoming increasingly rare and more difficult to find in the secondary market.
This gentleman's tail-back folder features a Damascus blade, and Damascus bolster. The handle scales are beautiful, fiery Abalone, with rich deep colors. There is file-work on the backspring, which continues onto and runs the entire length of the blade spine. Wayne has also file-worked the liners. A very slick little knife. The knife is on consignment from the collection of another world renown Mastersmith. He acquired it directly from Wayne, and it has been in his collection since. Being a Mastersmith himself, the knife was well cared for, and stored properly. This Mastersmith is "thinning" out his collection, and Windy City Knives is honored to have been appointed as his chosen purveyor.

The blade is in perfect condition. The handle is also in excellent condition. There is no nail-nick or thumbstud, but the blade opens and closes silky smooth. It locks up tight with no blade play, and sits almost centered between the liners when closed. The knife will come in a storage case. This is a great piece to add to your collection.
Condition: Previously owned. Excellent Condition
Never used, carried, or sharpened
Overall length: 4 5/8"

Blade length: 2"

Handle length: 2 5/8"