W.D. Pease Fossilized "Swinger", Mokume Bolster, Dangler Leather Sheath (SOLD)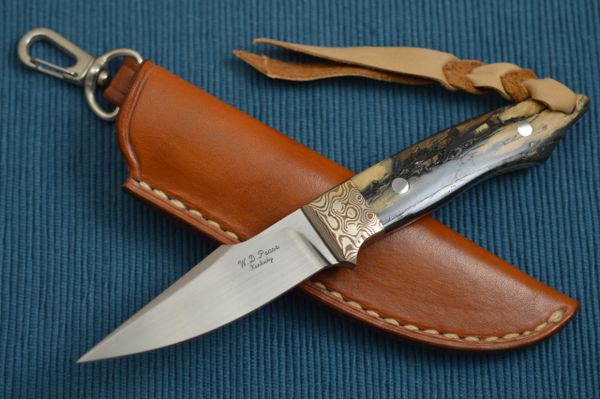 W.D. Pease Fossilized "Swinger", Mokume Bolster, Dangler Leather Sheath (SOLD)
This Swinger from WD Pease reflects both the art and skill that Mr. Pease is known for worldwide.  He has mastered the art of p
recision grinding, with hand rubbed finishes and razor sharp edges.  Virtually perfect fit and finish have long been Mr. Pease's calling card.  Whether it is a folder or a fixed blade, WD does it all - he is certainly one of the best. 
This gorgeous fixed blade Swinger knife has handle scales of ancient fossilized material.  They are beautifully matched, with outstanding deep rich blues and creamy natural colors.  The harpoon shaped blade is ATS-34 stainless with a tapered tang, and there's a Mokume bolster.  WD included a braided leather lanyard in the lanyard hole.  The blade is marked "W.D. Pease Kentucky" on the presentation side, and WD's unique serial number, "Swm73" on the opposite side.  Comes with a dangler leather sheath from Mr. Pease.  One of my favorite Pease knives!
Condition:  
Previously owned. MINT
                     Never carried, used or sharpened
Overall length:   6 3/4"
Blade length:      3"
Handle length:   3 3/4"