W.D. Pease Stag Handled Fixed Blade Knife - Rare Full INTEGRAL Dirk (SOLD)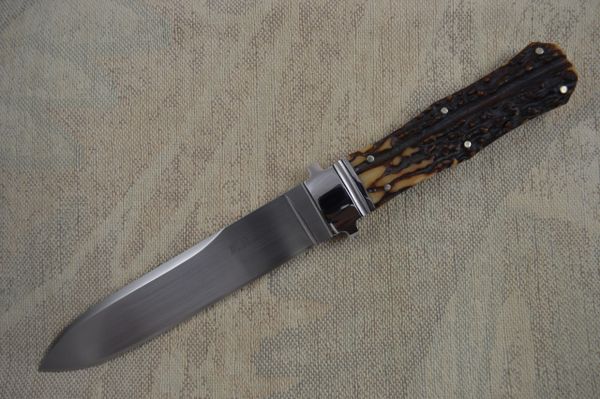 W.D. Pease Stag Handled Fixed Blade Knife - Rare Full INTEGRAL Dirk (SOLD)
This is a rare fixed blade, full integral Dirk by W.D. Pease. Integral knives are created from a solid billet of steel, and then carefully removing material until all that is left is the blade and tang. Not many makers will undertake the task of making a knife of integral construction - it's difficult, time consuming, and painstaking. Not to mention very costly if a mistake is made. You cannot fix it - you need to start over. The Reverend Pease does not make many integrals. If he were to make this knife today, he said he would price it at $2500.
The blade steel is 440C. The blade is double ground, with a hand rubbed finish and false top edge. The symmetry of the grinds is awesome. The stag handles that have been pinned are some of the finest, thickest, and darkest matching slabs I have ever seen. The knife is in absolutely new condition. There is no sheath.
Condition:
From my personal collection. MINT
Never carried, used or sharpened
Overall length: 10 3/4"
Blade length: 6 1/4"