Will Moon Custom Banshee, Spindle Lock Folding Knife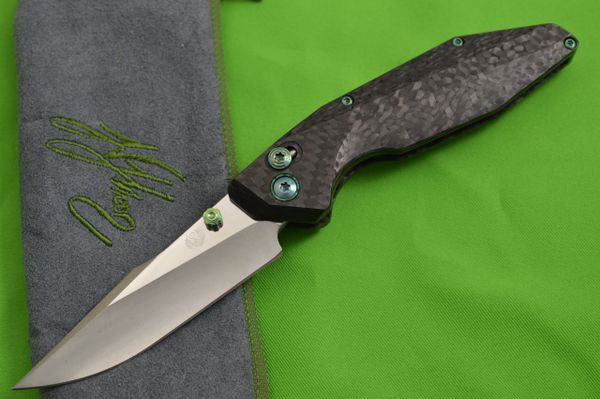 Will Moon Custom Banshee, Spindle Lock Folding Knife
The Banshee is Will Moon's latest custom knife design.  It utilizes Will's new "spindle lock" design.  You might think of it as a melding of the Benchmade axis lock, and the Spyderco ball bearing lock.  However similar, it is distinctly different, and improves upon the design. The spindle lock is stronger and longer lasting, despite its relatively simple design.  The knife features a harpoon-shaped 20CV stainless steel blade with a mirrored stonewashed finish on the grinds and polished flats.  The handle is two (2) pieces of milled carbon fiber, contoured for comfort and ergonomics in-hand.  The thumbstuds, pivot, jeweled tip-up mounted pocket clip and titanium plates that house the spindle mechanism are all anodized green.  The pocket clip features a Todd Begg style ceramic ball to ease it into your pocket, as well as retention.  Will also utilizes what he calls a "Jelly Bean", that stands-off the pocket clip from the carbon fiber handle scale.  
The knife is in mint condition.  It functions perfectly.  The blade locks up tight and secure.  The spindle lock easily releases the blade, and it sits perfectly centered in the handle when closed.  Despite being previously owned, it has never been carried or used.  This would make a great EDC.  Comes in a Will Moon padded, zippered case.
Condition:   Previously owned.  Mint.
                   Never used, carried or sharpened
Overall length:  8 3/4"
Blade length:    3 3/4"
Closed length:  5"