Will Moon Custom Mark 7 Frame-Lock Flipper Folding Knife, Silver Twill Inlay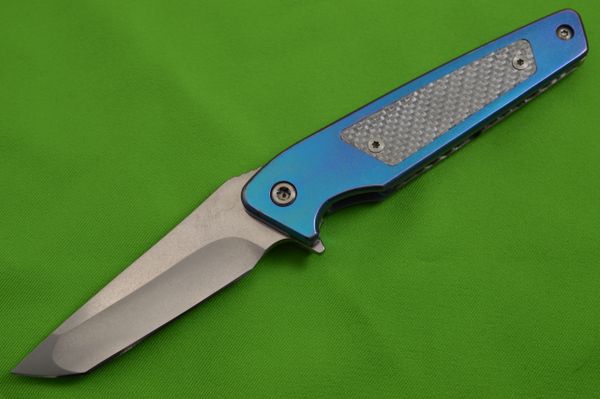 Will Moon Custom Mark 7 Frame-Lock Flipper Folding Knife, Silver Twill Inlay
This Mark 7 custom frame-lock flipper by Will Moon is the perfect carry size - comfortable and functional.  The knife features a multi-ground Tanto-shaped CPM-154 stainless steel blade, that has been tumbled and polished.  The notched thumb rest provides excellent tactile feel, and control of the knife.  The titanium frame is anodized a bluish purple, with a Silver Twill inlay on the presentation side.  The inside of the frame has also been jeweled.  The blade rides on ceramic bearings.  The titanium backspacer is anodized within the depressions of the jimping.  The hardware is also titanium.  And the tip-up carry pocket clip is blue G10.
The knife flips easily and strong, with good detent  It locks up early, tight and secure.  The blade has an easy lock release, and is centered in the frame when closed.  The knife is previously owned and has no signs of use, although it has been handled.  It is in excellent condition.  Comes in a padded, zippered case. 

Condition:   Previously owned.  Excellent.
                    Never used or sharpened
Overall length:  8 1/2"
Blade length:    3 1/2"
Closed length:  5"