1995 Chris Reeve CRK Large "P" SEBENZA, Boxed, Pouch, Tool, COA (SOLD)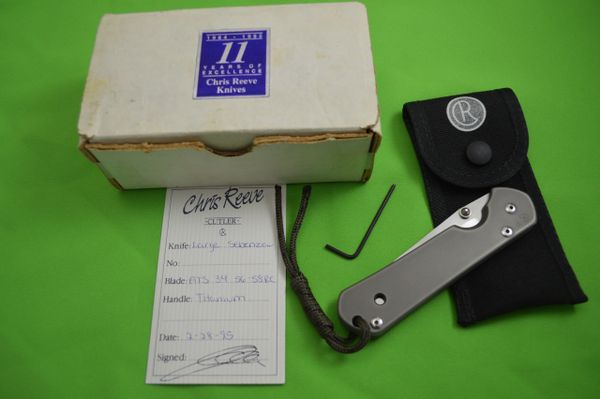 1995 Chris Reeve CRK Large "P" SEBENZA, Boxed, Pouch, Tool, COA (SOLD)
This is a very rare and early Chris Reeve Knives (CRK) Large SEBENZA, designated with a "P".  Contrary to what many believed, the "P" did not stand for Prototype.  It designated the knife as "Production", after Chris completed the "H" series knives.  The "P" designated knives only lasted about a year, and were dropped due to the Prototype / Production confusion.  The first 200 "P" knives were marked with a serial number, before the serial numbering was discontinued.  This knife is not marked with a serial number, so it was built after the first 200.  According to Anne Reeve, "Back then, our manufacturing capacity was so much smaller and we only made about 250 plain large Sebenzas in 1995, so 300 - 350 is a give-or-take guess for how many of the P Sebenzas were made".  The knife is dated 2-28-95.  Again, according to Anne, "Chris would most definitely have had a large role in the making of your knife.  I don't remember how many employees we had then but I'd guess 4 - 6 making knives, including Chris.  At the time, the majority of our production was One Piece Knives. 
Chris was grinding and sharpening all the blades as well as doing most of the fitting
".  These early Sebenzas don't come up for sale very often.  Most reside in collections.  And what makes this knife even more collectible, is the fact that it is unused / uncarried, and includes the original box, adjustment tool, Chris Reeve ballistic pouch, and Birth Card (COA).  The blade steel is ATS-34 (56 - 58 RC), and the fittings are all 303 stainless steel.  There is only a one-sided, single thumbstud, on the presentation / non-locking side.
The knife is previously owned, and in excellent condition.  It was never used, carried or sharpened.  The blade is perfect. 
However, it does appear that the edges of the frame were modified / rounded / smoothed at some point, and then re-blasted.  According to a knowledgeable Service Tech at CRK, the edges were likely modified by an outside shop.  The re-blasting of the handle could have been done by CRK, as they would have worked on modified knives back in the day.  Although I cannot confirm that.  It could have just as easily been done outside of the CRK shop.
  The previous owner had it in his possession for nearly 20 years, so it was likely modified prior to 2001 (or so).  It has a couple of faint handling / pouch marks.   The lock-up is rock solid, and the blade is centered.  In spite of the modification, this is still a beautiful example of an early Chris Reeve Knives P Sebenza.
Condition:
Previously owned. Excellent (as noted).
                   Never used, carried or sharpened
Overall Length:  8 3/8"

Blade Length:    3 5/8"

Closed Length:  4 3/4"