Tony Bose Zulu Spear Slip-Joint Folding Knife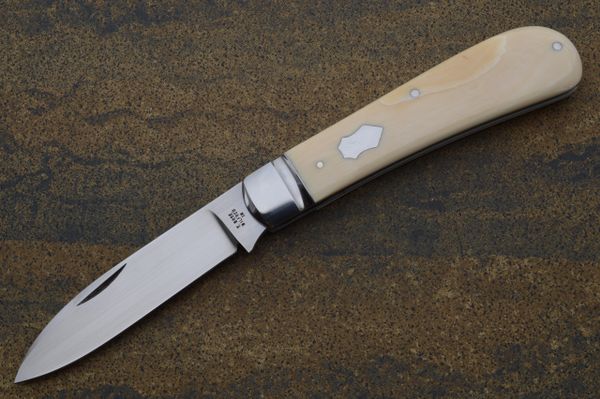 Tony Bose Zulu Spear Slip-Joint Folding Knife
From the Bose Knives website..."Tony Bose comes from humble beginnings in the West-central Indiana town of Hymera.  He suffered an injury to his right eye at the age of six and his family endured hard economic times throughout his childhood.  When Tony became old enough to work, he encountered many obstacles due to his partial blindness.  As it turned out, that childhood injury and his love of "pocket knives" became a catalyst in making Tony who he is today and his knives some of the most coveted hand made knives today.  Tony started making knives in 1972 after many years of repairing knives for extra money.  He made his first folder in 1975. To date he has made over 48 different patterns based on knives from the old cutlery companies.  Tony says, "I don't design knives, I bring old knives back from the grave."  Tony's forte is just that; bringing old knives back to life but with all the improvements that modern materials and superior craftsmanship offer.  Tony's reputation as a master cutler of traditional folding knives was recognized and rewarded in 1998 with his hiring as consultant to the W.R.Case & Sons Cutlery Co.. Tony provides a level of expertise with pocket knives that could easily have been lost but he shares the information openly with anyone who wants to learn."
Sadly, the knife world lost the legendary slip-joint knifemaker on November 22, 2020, at the young age of 74.  He was one-of-a-kind.  A true gentleman that is sorely missed by all.
This is a highly collectible Tony Bose Zulu Spear slip-joint folding knife.  It features African Goat Horn scales with lots of character and appeal.  The blade is CPM154, as stamped on the ricasso of side B.  The ricassso of side A is stamped "T. BOSE WILFRED, IN".  The fluted bolster, pins, integral liners and Federal shield are all 416 stainless steel.  Has is a half-stop and is flush in all positions.  This knife was previously owned in a high-end collection, acquired directly from the man himself.  It was never used, carried or sharpened.  It is in excellent to mint condition.  An ample nail nick on the blade affords a smooth, firm pull.  The blade locks up tight with no play and is well-seated.  Nice walk and talk.  This is a rare opportunity.  Comes in a padded case.

Condition:  Previously owned.  Excellent to Mint.
                    Never used, carried or sharpened.
Overall length:    7 1/8"

Blade length:      3 1/8"
Closed length:    4"