Al Mar Pathfinder Machete 65 of 200 Seki, Japan Limited Edition Pre-Production (SOLD)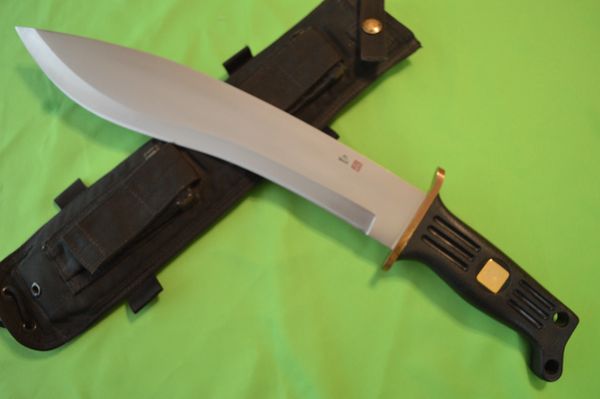 Al Mar Pathfinder Machete 65 of 200 Seki, Japan Limited Edition Pre-Production (SOLD)
From the Al Mar Knives website...Al Mar was born in the U.S.A., the son of Chinese immigrants. He served in a Special Forces Reserve Unit and volunteered to serve in a Green Beret special operations group in Vietnam. After serving in Vietnam, Al completed his college education by earning a master's degree in industrial design from the Art Center College of Design in Los Angeles.  
He went on to work at Gerber® Legendary Blades under Pete Gerber, concluding his tenure there as "Head of Knife Design."
In 1979, Al founded AL MAR® Knives. His mission was to blend mass production methods with custom knife quality. At first, the majority of his knives were designed for police and military, because of his vast experiences as a practitioner of Judo and Kendo and his history as a Green Beret. In fact, Al's S.E.R.E. (Survive-Escape-Resist-Evade) knife was the first knife accepted for use by Special Forces Colonel Nick Rowe for the S.E.R.E. Instructor School at Camp McCall North Carolina. And as the company grew, his designs evolved to include high-quality hunting/fishing, kitchen, and gentlemen's gift knives.
Al Mar was a life member of the Special Forces Association, a member of the Special Operations Association, and a reserve deputy sheriff. He was inducted into both the Fighting Knives Magazine and Blade Magazine Hall of Fame. Al Mar was a man worthy of the highest respect. 
Today, we continue his mission to make knives with custom-quality design and innovation.
This Al Mar Pathfinder machete dates back to the early 1980s.  It is #65 of 200 pieces of a Limited Edition, Pre-Production run.  The knife was made in Seki, Japan, as stamped on the ricasso.  The blade is stainless steel, and the handle is a composite, with gold Al Mar logo medallions on either side of the handle.  The double guard appears to be brass, with some mild patina.  The knife was previously owned and is in excellent condition - no signs of carry or use.  The blade has some fine surface scratches from insertion into the sheath.  Included with the knife is the original nylon sheath.  There is no sharpening stone in the pouch.  No case.

Condition:  Previously Owned. Excellent
                    Never used, carried or sharpened
Overall length:   19 1/2"

Blade length:      14"
Handle:               5 1/2"
Weight:               1 lb. 11 oz (without sheath) 2 lbs. 6 oz (with)