Andrew Demko AD-15 All Titanium Scorpion Lock Folding Knife (SOLD)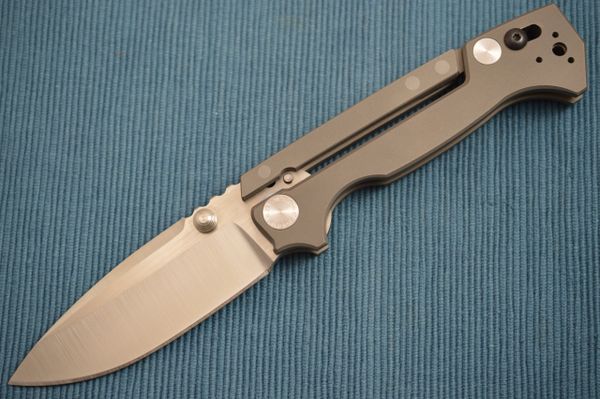 Andrew Demko AD-15 All Titanium Scorpion Lock Folding Knife (SOLD)
This Andrew Demko AD-15 is an overbuilt, overengineered, heavy-duty, everyday hard use folding knife.  The drop point, satin finished blade is CPM S35VN stainless steel, with some very aggressive thumb notches.  The handle frame is all titanium, with a solid titanium backspacer.  The AD-15 features Andrew's patented Scorpion locking mechanism.  The titanium bar at the top of the frame "pulls up". releasing the blade.  Andrew modified a traditional lock-back by integrating it into the frame and adding a stop pin, thereby eliminating blade play and overtravel.  The lock is designed for one-handed operation, while keeping your hand out of the path of the blade when closing.  The knife also features dual thumbstuds, lanyard hole, and a sliding lock at the rear of the handle for locking the blade in the open or closed positions.  The tip-up titanium pocket clip can be moved to the opposite side of the frame, for left pocket carry.
The blade is rock solid tight when opened.  It almost feels like a fixed blade knife in-hand.  It has an easy lock release, once you get used to the Scorpion lock, and the blade is dead center in the frame when closed.  The knife is previously owned, and in near mint condition.  I cannot find anything noteworthy.  Comes in the padded, zippered case. 

Condition:   Previously owned.  Near Mint.
                   Never used, carried or sharpened
Overall length:  8 5/8"
Blade length:    3 3/4"
Closed length:  4 7/8"