Ben Voss Loveless-Style, Stag Stiff Horn Custom Fixed Blade Knife (SOLD)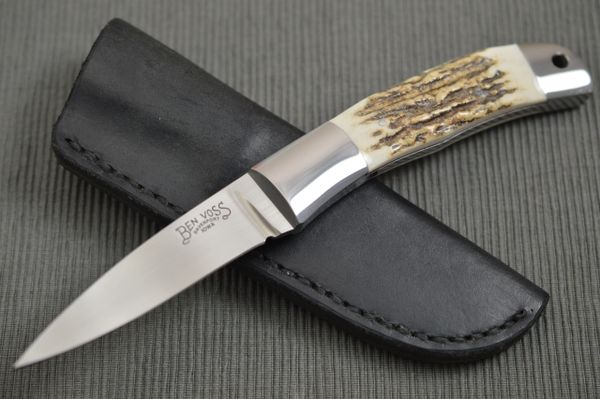 Ben Voss Loveless-Style, Stag Stiff Horn Custom Fixed Blade Knife (SOLD)
This Loveless-style Stiff Horn fixed blade knife from Ben Voss is in almost perfect condition.  It is from a private collection.  It does not show any signs of use or storage.  The blade is marked "BEN VOSS" on one side, along with "Davenport Iowa".  This knife was obviously made when Ben resided in IA.  He now resides in Illinois.  The blade steel is most likely ATS-34 or 440C, with a hand rubbed satin finish.  The handle is two (2) nicely matched slabs of natural stag, pinned in two (2) places with nickel silver pins, with nickel silver front and rear bolsters, and a lined thong hole through the rear bolster, for your favorite lanyard.  Full tang construction and red liners accenting the wood scales, round out this nice little package.  It feels comfortable and secure in-hand, just itching to be used.  Included with the knife is a leather pouch-type sheath with a belt loop, stamped "BEN VOSS".

Condition:  Previously owned.  Excellent to Mint.
                    Never used, carried, or sharpened
Overall length:   7 1/4"

Blade length:     3 1/8"
Handle length:   4 1/8"