Bill Moran, Jerry Fisk, Jay Hendrickson Collaboration, Drop Point Hunter (SOLD)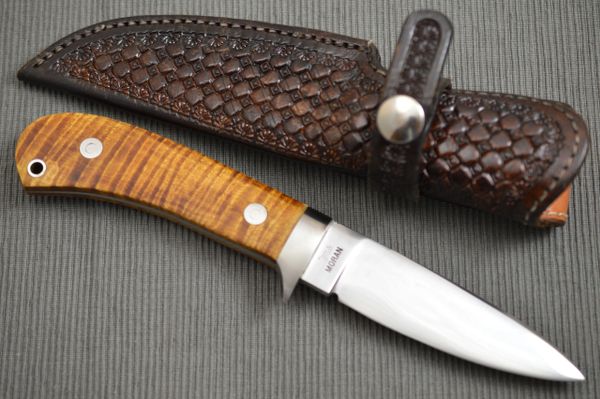 Bill Moran, Jerry Fisk, Jay Hendrickson Collaboration, Drop Point Hunter (SOLD)
This drop point hunter is a collaboration knife that was made by Bill Moran, Jerry Fisk, and Jay Hendrickson.  It was made in 1995, for a prominent collector and member of the American Bladesmith Society (ABS).  Windy City Knives is honored to have this knife on consignment from the collection of that prominent member of the ABS.  This is an extremely rare piece.  This is the only known knife with these three knifemakers' marks - and with Bill Moran's passing in 2006, there can never be another one like it.  This truly is a "one of a kind".  An extremely rare piece, that is certain to be the highlight of anyone's collection.
The forged carbon steel blade likely 5160, and is marked "MORAN" and "Fisk" on one side of the ricasso, and "HENDRICKSON" on the other side.  The blade has a full tapered tang.  The handle is curly maple, and the single-finger guard appears to be satin stainless steel.  The owner recalls from memory nearly 22 years ago, that Bill forged the blade, Jerry did the handle, and Jay did finishing and final assembly.  If you look closely at the blade, you can see a differential heat treatment line that travels along the blade, showing the transition between the soft, supportive spine and the keen, hard edge.  It is in unused condition.  However, you will find some fine hairlines on the blade and guard from sheath insertion, and there is a small area of discoloration at the end of Jay Hendrickson's name where the guard meets the ricasso.  The knife comes with a beautiful leather pouch-type belt sheath with keeper strap made by Kenny Rowe of Rowe Leathers.  This one would be a great addition to any collection.  Where would you find another?!  It is irreplaceable.

Condition:  Previously owned, Excellent condition (as noted above)
                    Never used, carried, or sharpened
Overall length:      8 1/4"

Blade length:        3 7/8"
Handle length:      4 3/8"