Billy Bob Sowell, J.S. Sheephorn Hunter, Buffalo Sheath (SOLD)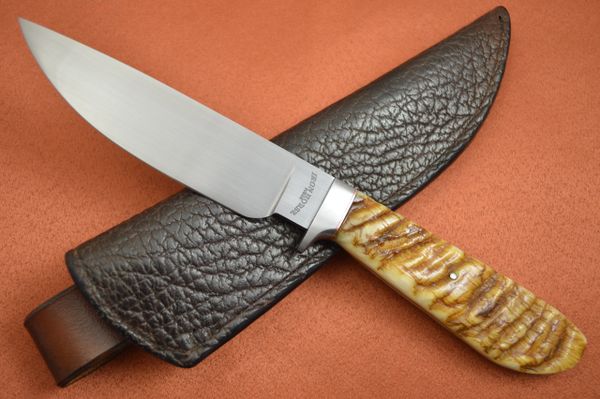 Billy Bob Sowell, J.S. Sheephorn Hunter, Buffalo Sheath (SOLD)
Billy Bob Sowell recently appeared on Episode #1, Season 5 of Forged in Fire, "The Rhomphaia" - a close-combat bladed weapon dating back to as early as 400 BC.  At the end...Billy Bob won that episode's competition.
This Sheephorn handled Hunter was made by Billy Bob Sowell when he was a Journeyman Smith, shortly before he earned his Mastersmith designation in the ABS.  It is definitely M.S. quality workmanship.  The blade was forged from what is most likely hand rubbed, satin finished 1050 carbon steel, with a single finger guard of nickel silver.  The guard is highlighted by a copper spacer between it and the handle.  The handle is made from two nicely matched and highly figured sheephorn scales, of mortise construction with a hidden tang.  The blade is stamped "Iron Horse Forge" on one side of the ricasso, and "JS" on the opposite side.  The knife comes from the original owner.  It is in mint condition, having never been used or carried, and properly stored.

There is a buffalo hide pouch-type sheath with hanging belt loop, that was also made by Billy Bob.  No case.  This is a light, slim hunting knife that would serve you well in the field or camping. 
Condition: 
  Previously owned. Mint Condition
                     Never used, carried, or sharpened
Overall length:   10 1/8"
Blade length:      5 1/4"

Handle length:    4 7/8"