Black Snow Customs, Nati Amor, Full Size SABOTAGE Flipper, Carbon Fiber Scales (SOLD)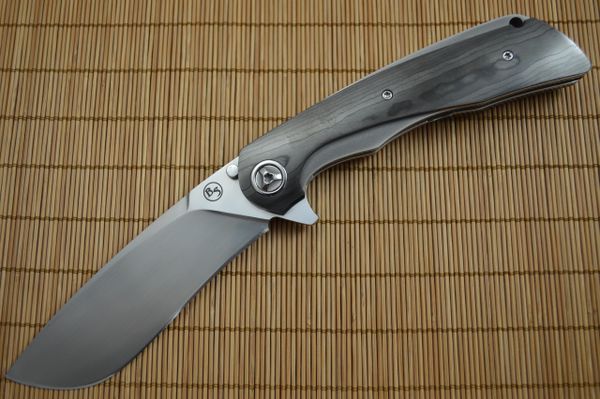 Black Snow Customs, Nati Amor, Full Size SABOTAGE Flipper, Carbon Fiber Scales (SOLD)
Veteran Israeli craftsman Nati Amor broke into the custom knife scene in a big way with the Sabotage, an oversized titanium flipper optimized for high-performance slicing.  Working under the name Black Snow Customs, Amor has quickly commanded the attention of collectors and fellow bladesmiths with an imposing debut.  Nati made the transition from custom jewelry maker for 17years, to custom knifemaker in 2016.  The Sabotage's defining feature is the large, recurved blade.  Despite its resemblance to traditional tools like the machete, Amor says that he took no particular inspiration from other edged implements – he simply wanted to make a big knife that offered excellent cutting performance. "I love knives with massive blades, so I wanted to create one that would be massive yet practical," he says.  And with the sweeping recurve and full flat grind, the Sabotage's 4.25" blade is made to slice.  The 8.1 oz. flipper uses a thick titanium liner lock set underneath the handle scales, and runs on caged bearings.  He may be a fan of big knives, but Amor acknowledges that not everybody is inclined (or legally able) to carry the full-size Sabotage.  The success of the original has encouraged him to make a smaller sequel.  The second knife to come out of Black Snow Customs was the Mini Sabotage.
This is Sabotage #30.  In the interest of full disclosure, this knife was originally made in June 2016, and had red G10 scales.  It was sent back to Nati to replace the scales, update it, and give it a spa treatment in March 2017.  The scales are now Unidirectional Carbon Fiber, which IMHO look much nicer and classier.  The blade is CPM D2, 60 HRC.  All the hardware, including the liners, clip, pivot and pivot ring are highly polished titanium.  Even the hex screws are highly polished.  The clip also features a ceramic ball to facilitate clipping it to your pocket.  The knife is in absolutely Mint Condition.  It exhibits excellent detent, solid lock-up and perfect blade centering.
The knife comes with both he original COA, as well as the Spa COA.  It will also include the drawstring cloth pouch provided by Nati, as well as the original hard plastic clam-shell case.

Condition:   Previously owned. MINT.
                    Never used, carried, or sharpened
Overall length:    9 1/8"
Blade length:      4 1/4"
Handle length:    4 7/8"