Bob Lum Large (15.5" OAL) Stag Handle CHINESE FIGHTER (SOLD)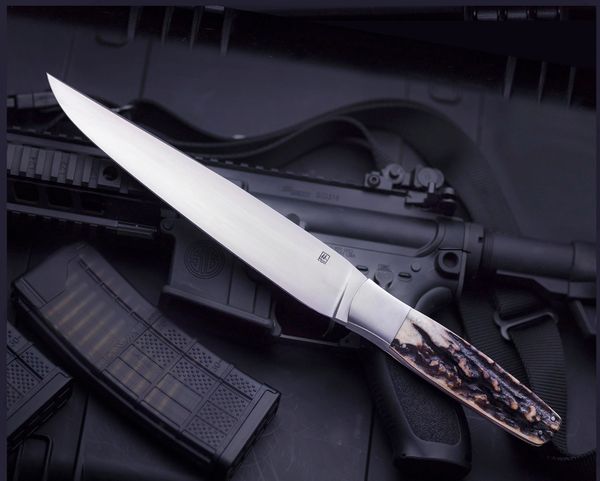 Bob Lum Large (15.5" OAL) Stag Handle CHINESE FIGHTER (SOLD)
From Bob Lum's website...
"Knifemaker and designer Bob Lum passed away on December 4, 2007 at age 64. As the artist and maker that began the 'tanto' style knife from antique versions from Japan, he will be remembered as a considerate, kind and wonderful friend in the knifemaking world, besides being an excellent craftsman and designer."

For those of you who had the opportunity to have met Bob in-person, consider yourselves fortunate.  Bob was a classic, and is deeply missed by the knife community.  Bob was known for his outstanding knife designs, excellent materials, and attention to detail.  His fit-and-finish was second to none.

This large fixed blade Chinese Fighter was made about 20 years ago.  It was, and still is the largest Chinese Fighter that Bob had ever made.  A rather rare find, and certainly highly collectible and unique.  The stag scales are absolutely gorgeous - well matched, deeply figured, and great color.  There are red liners sandwiched between the stag and full tapered tang.  This knife was acquired from the original owner, who took amazing care to keep it in mint condition.  Don't let this rare, one-of-a-kind beauty pass you by.  This one won't last long, and you won't find another like it.

There is no sheath.  It will come in a padded, zippered case.

Condition:  Previously owned.  Mint.
                    Never used, carried, or sharpened.
Overall length:  15 1/2"

Blade length:     9 1/2"

Closed length:   6"