Bob Terzuola Custom ATCF (Advance Technology Combat Folder) (SOLD)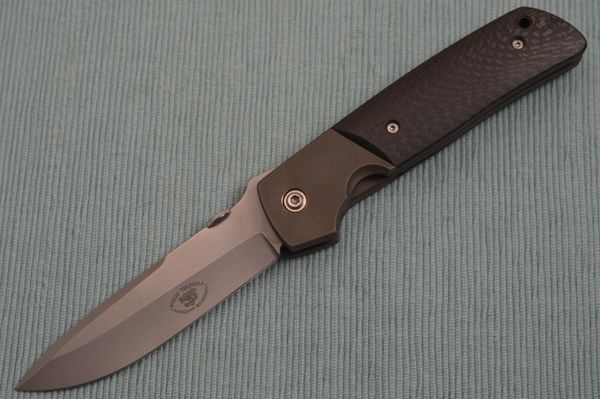 Bob Terzuola Custom ATCF (Advance Technology Combat Folder) (SOLD)
From Bob Terzuola's website...
"Bob Terzuola was born in Brooklyn, New York and attended New York University. Upon graduation in 1967 he went to Panama as a Peace Corps trainer and later became a jade carver and gemologist in the Motagua River Valley, Guatemala.
In 1979, Terzuola began making knives and joined the Knifemakers' Guild in 1981 on an endorsement from Bob Loveless. Terzuola's first knives were fixed blade designs made for soldiers in Guatemala. Later that year moved to New Mexico and began making folding knives. Seeing a need for a knife that could be carried discreetly, he developed a model featuring black micarta for the scales and bead-blasted titanium bolsters. Innovations in design for which he coined the term "Tactical Knife". Bob Terzuola attends many of the largest and well known custom knife shows across the world.
Bob Terzuola Knives are known for their trademark design and high quality workmanship. Terzuola's most  popular model is the ATCF, a folding knife design. This was his first tactical folding knife, although he also makes it with non-tactical materials. Knife models that Bob Terzuola is popular for are the 3A, TT-1, Model 7, Eagle Rock 514, TTF3A, Model 26, Starmate, TTF3B, Pathfinder, Century Starfighter, Starmate, Battle Guard, TTF6, Model 18 Combat Master, WEE T, and Battle Mate, just to name a few. Bob Terzuola also designed a very popular knife that for Spyderco, the SLIPIT. The SLIPIT is made of the finest non-locking tactical folders on the market.
Bob Terzuola has authored a book about the design of tactical knives named, 'The Tactical Folding Knife.' When you hear people say that Bob Terzuola literally wrote the book on tactical folding knives, he really did! Many custom tactical knifemakers have his book in their shop, and highly value his opinions and designs. Bob Terzuola has also authored articles about tactical knives and knifemaking for Blade, Soldier of Fortune and other publications.
Bob Terzuola has collaborated with other custom knifemakers and production knife companies.
Sorry Bob Terzuola is no longer taking  custom knife orders!"
This knife is one of Bob's classic ATCF (Advanced Technology Combat Folder) custom liner-lock models, in his signature tactical materials.  The handle scales are carbon fiber, the bolster and liners are bead blasted titanium, and the hand ground spear point stonewashed blade is CPM S30V.  The knife also features a thumb disk, black micarta backspacer, lanyard hole, and a bronzed clip with "TERZUOLA" etch into it.  There's also jimping on the lock release, as well on the blade spine, aft of the thumb disk.  This is a hard-to-find model in this configuration, and highly collectible.  The blade locks up tight when opened, and sits nearly centered in the liners when closed.  Comes in a padded case.  This one won't be around long!


Condition: Previously owned. Near mint.
                   Never carried, used or sharpened
Overall Length:  8 3/4"

Blade Length:    3 3/4"

Closed Length:  5"