Bubba Crouch 2-Blade Stag and Damascus Saddlehorn Trapper, Slip-Joint Folding Knife (SOLD)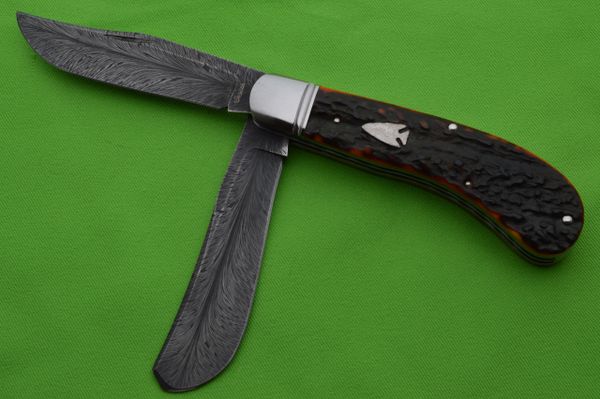 Bubba Crouch 2-Blade Stag and Damascus Saddlehorn Trapper, Slip-Joint Folding Knife (SOLD)
Bubba Crouch is a South Texas Slip-Joint knifemaker from Pleasanton, TX.  No surprise that he learned to make knives from the Maestro, Bill Ruple.  Bubba has been making knives since 2009, but his work is that of a much more seasoned knifemaker.  Bubba is a part-time maker and has taken slip-joint knives to the next level.  His work is distinctive, and the high-quality materials he uses and his fit-and-finish, reflect his attention to detail and passion for knifemaking.
This 2-blade Bose Saddlehorn Trapper is new from Bubba in 2023.  It features a Clip Point blade and a Spey blade, both made from Mike Tyre Feather Damascus.  The scales are premium grade Red Stag, with a 416 stainless steel "hammered" Arrowhead shield inlaid on the presentation side.  The fluted bolster is 416 stainless steel, integral to the outer liners.  The center liner is also 416 stainless steel.  All the spines of the liners have very nicely done file-work.  The center liner file-work is a different pattern that the outer liners' file-work.  The spun pins are also 416 stainless.  The liners are jeweled, and all the liners have been relieved.  The blades have nicely sized, comfortable nail nicks, with firm, smooth pulls.  The blades lock up tight with no play, and the blade seating is centered between their respective liners.  Both blades have half stops.  Nice walk and talk.  Comes in a padded zippered "Crouch Knives" case.

Condition:  New from the Maker
Overall length:      7 7/8"

Clip Point Blade:   3 1/2"
Spey Blade           3 1/2"
Closed length:       4 3/8"