BUSTER, Jake Hoback Knives - Snecx Design Lab Collaboration, DLC BLACK Finish (SOLD)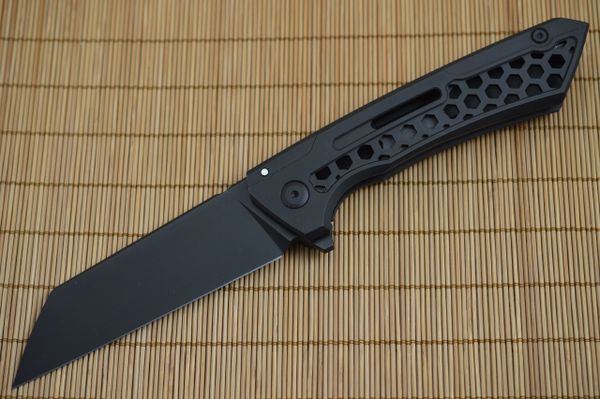 BUSTER, Jake Hoback Knives - Snecx Design Lab Collaboration, DLC BLACK Finish (SOLD)
From the Hoback Knives website:
"The Buster is a collaboration between two companies – Jake Hoback Knives and Snecx Design Lab – and between two engineers with very complementary styles!  Jake likes to focus his energy on form, fit, and function, and Tan, from Snecx, is an engineer with an amazing sense of design.  To quote Jake, "Tan is focused on the intricacies of a design - the little things that look fantastic AND have a purpose."
Jake added his own touches to the design of the Buster, with multi-tiered pocketing for weight saving, and a honeycomb design in the handle that gives it even more lightening.  The honeycomb pattern also adds a ton of grip without being overly aggressive!  There are no inlays used; the honeycomb is part of the one-piece frame."
Key features include:
Pivot Thrust Bearings
HRD (Hoback Roller Detent)
Engineered Internal Lightening Pockets (less weight, same strength)
Hardened Steel Bearing Races

Integrated Lanyard Slot
Windy City Knives is a proud member of the Jake Hoback Knives authorized dealer network.
This Buster frame-lock flipper has a DLC Black finished 0.1875" thick M390 blade, and DLC Black finished titanium handle frame.  The knife exhibits great flipping action, locks up tight with no play, releases easily from the frame lock, and the blade sits perfectly centered in the handle.  The knife weighs a mere 6.6 ounces.  The knife comes in a Hoback Knives wooden presentation box, with Jake's signed Certificate of Authenticity and three (3) different size wrenches.
If you've been waiting for one of these, now's your chance.  Jake really dialed these in, perfectly.
Condition:  Brand New From Maker.
Overall length:  9.471"

Blade length:    4"

Closed length:  5.389"