Chris Reeve South Africa Mark V, 1988 Black Jack Knives Import, Box and COA (SOLD)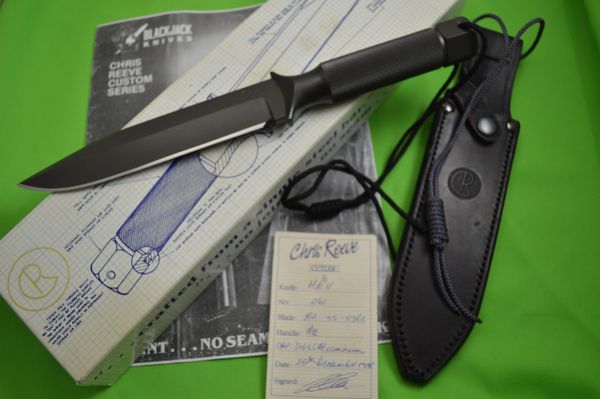 Chris Reeve South Africa Mark V, 1988 Black Jack Knives Import, Box and COA (SOLD)
The Chris Reeve Mark V was made in South Africa.  The COA is dated 20th December 1988.  The COA and stamp on the knife indicates it is No. 261.  I believe that only just over 300 pieces of the Mark V model were made.  The knife was imported and sold exclusively by Black Jack Knives.  If you'd like to read the history of Chris Reeve Knives and Black Jack Knives, here's a great site...Black Jack Knives History.  Chris' knives that were made in South Africa are becoming increasingly hard to come by.  Here's your chance to own a rare and collectible piece of CRK history.
This Mark V is crafted from one solid bar of steel.  The steel is Thyssen-Marathon tool steel.  At the time, it was produced by a West German steel manufacturer.  The actual tool steel used by Chris Reeve is a special custom blend which resembles American A2 steel.  It has a Rockwell hardness of 55 - 57.  The blade finish is baked on "Kalgard" grey-black coated for maximum rust resistance.  Kalgard was developed for, and used in, the Aerospace Industry.  The knife has no joints, no seams and no breaks.  The knife is virtually indestructible.  The removable butt cap reveals a hollow handle.  Here's where you can keep emergency or survival needs.  The cap is made of D65S Aerospace Aluminum.  And the cap is fitted with a neoprene "O" ring to ensure that the storage space is completely sealed from dust and moisture.  Included with the knife is the original cowhide sheath, also made in South Africa.  The knife and sheath come in the original Black Jack Knives box, along with the COA, tissue paper packing, and Black Jack Knives Chris Reeve Custom Series folding Spec Sheet / Catalog.  The knife is in Mint Condition.  It has been stored in a climate controlled safe, and never used, carried or sharpened.  The box has a bit of light staining from age.

Condition: Previously owned. Mint condition.
                   Never used, carried or sharpened
Overall Length:    12"

Blade Length:       7"

Handle Length:     5"