Daniel Galloway, MINI BENTLEY Frame-Lock Flipper, Blade Show 2017 Lottery (SOLD)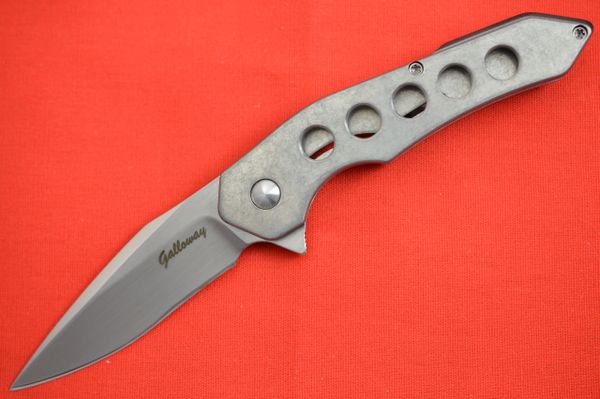 Daniel Galloway, MINI BENTLEY Frame-Lock Flipper, Blade Show 2017 Lottery (SOLD)
This Mini Bentley is brand new, and direct from Daniel Galloway's lottery at the 2017 Blade Show. Dan is a protege of Lee Williams, and his workmanship shows it. It features a satin finished PM 154 clip point blade with unsharpened swedge and notched flipper tab. The Mini Bentley is a frame-lock. The handle is tumbled titanium with 5 holes drilled into the presentation side. The backspacer is raised blackened titanium, and the pocket clip is blackened titanium, as well. The knife has a crisp detent, solid lock-up, and a perfectly centered blade. It will come shipped in a padded, zippered case.
Condition:
Brand New From Maker. MINT.
Overall Length: 6 3/4"

Blade Length: 2 3/4"

Closed Length: 4"