David Lisch, M.S. Meteor Shower Damascus Hunter, Sambar Stag, Rowe Leather Sheath (SOLD)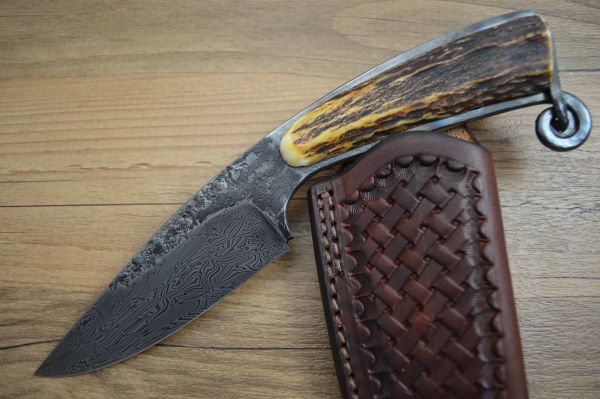 David Lisch, M.S. Meteor Shower Damascus Hunter, Sambar Stag, Rowe Leather Sheath (SOLD)
This Damascus Hunter by David Lisch, M.S. was just acquired directly from David at the Art of Steel Show in Little Rock, AR in February 2017. David's work is in high demand, and difficult to locate in the secondary market. This knife was done in his Brut de Forge style, and is a great example of what he is known for - Damascus. David calls this blade pattern, "Meteor Shower" Damascus. It is forged from 15N20 and 1080 carbon steels. The pommel is a pigtail curled tightly around the stag, that can serve as an extension to the handle, a place for your pinky, or a "pull" to remove it from the sheath - it is perfectly suited for this style knife. The handle is actually a SINGLE Piece of Sambar Stag made in what David calls his "entrapment design" - two channels are carved on the upper and lower portions of the stag, and the Damascus from the blade is "set" in the channels and curled into the pommel where they meet at the butt of the knife. This was the second knife that David made in this entrapment style design, as of the Show. His mark of "D Lisch MS" appears in script on the spine of the blade. Accompanying the knife is a pouch-style leather belt sheath with a basket weave design, that I had made by Kenny Rowe of Rowe's Leather in Hope, AR. This is a great piece from David. His fit and finish, attention to detail, construction, and balance are superb. Don't pass this one up - it won't be around for long.
Condition: New from the maker.
Overall length: 9 1/4"

Blade length: 4 1/2"
Handle length: 4 3/4"