Deryk Munroe "PTERODACTYL" Sole Authorship, Certificate of Authenticity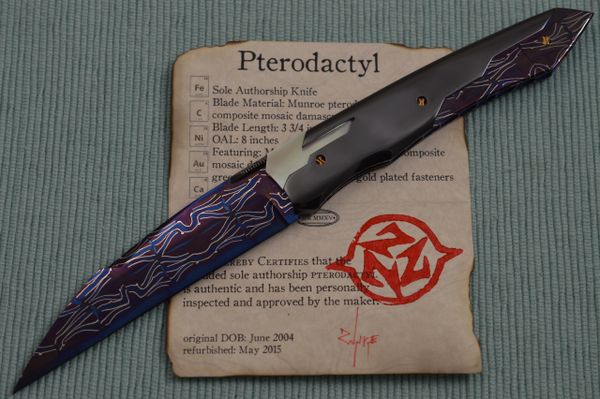 Deryk Munroe "PTERODACTYL" Sole Authorship, Certificate of Authenticity
This beautiful piece of art was created by Deryk (DC) Munroe.  These days, Deryk does not make many art knives.  Those that he has done in the past are sitting in collections, and do not come up for sale often.  Deryk calls this knife the "Pterodactyl".  It is a one-of-a-kind, Sole Authorship Knife.  It was born in June 2004.  It was totally refurbished to "new condition" in May 2015.  Since then it has been stored in a climate controlled safe.  It is definitely a very special "Grail", certain to be the centerpiece of nearly any collection.
The blade material is Munroe Pterodactyl pattern composite mosaic Damascus - a combination of 1084, 15n20 and nickel.  The handle is blackened and polished 1084 overlaying the Damascus portion of the handle.  That same blacked and polished 1084 was also used on the ambidextrous thumb tab.  Inlaid on both sides of the handle are Green Sea Snail Shells that shimmer nicer than any pearl I've seen.  That same Green Sea Snail Shell is inlaid in the file-worked backspacer.  This is a liner-lock, and the liners are file-worked on top and bottom, and blued.  The fasteners are all 24K hard gold plated.  There's just so much to see on this knife - it's mesmerizing!
The blade opens and closes smooth as silk.  It locks up tight with no play, and is sits dead center in the liners.  There isn't the slightest evidence of lock stick.  It comes in a padded, zippered case.  Included is Deryk's Certificate of Authenticity, validating that it has been inspected and approved by him.
You are welcome to contact me for additional information or photographs.  Serious inquiries, and cash offers, in writing, will be considered.  Sales limited to the CONUS.  Ships by insured USPS Priority Express Mail with Signature Confirmation Required.  
Condition:  Previously owned. Mint condition.
                  Never used, carried or sharpened
•
Blade length:    3 3/4"