Dick Atkinson Lock Back Custom Folding Knife, Decatur, IL Mark (SOLD)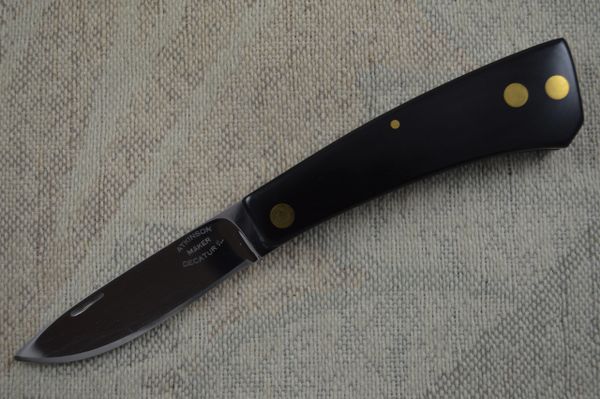 Dick Atkinson Lock Back Custom Folding Knife, Decatur, IL Mark (SOLD)
Dick Atkinson small rear lock-back folding knife. It features a highly polished drop point blade (blade steel unknown) with a forward placed nail-nick, and black micarta handle with large brass pins. This is one of Dick's older knives, with the "Atkinson Maker Decatur IL" mark. The lock up is tight with no blade play, and the blade seating is centered. The blade has some fine surface scratches, as though it was lightly sharpened or stropped. There are some very minor rubs seen at angles on the handle from storage. A nice tight package, and a great piece to drop in the bottom of your pocket.
Condition:
Previously owned. As noted.
Overall length: 6 7/8"
Blade length: 3"
Closed length: 3 7/8"